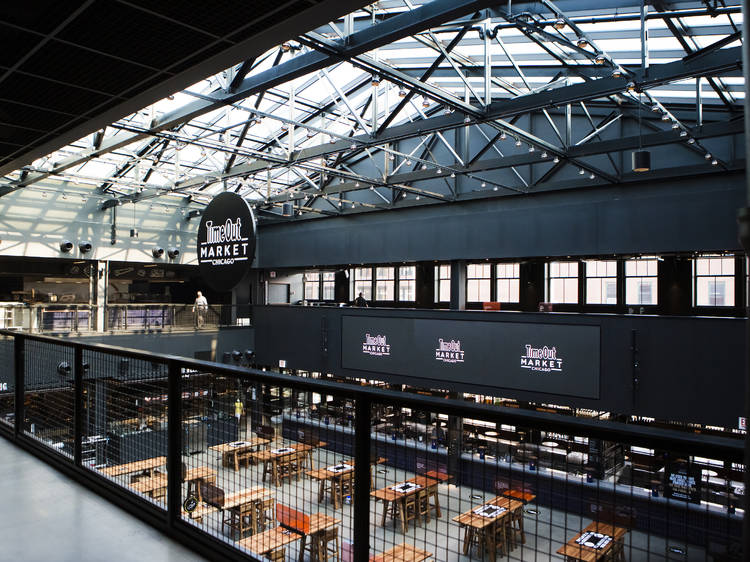 Photograph: Gosia Matuszewska
Time Out Market Chicago
We've rounded up the best chefs in the city to join us at Time Out Market Chicago, a culinary and cultural destination in the heart of Fulton Market.
An email you'll actually love
Best restaurants in Chicago
1. Oriole
Restaurants

Contemporary American

West Loop
What is it? A two-Michelin-starred fine dining experience from chef-owner Noah Sandoval.
Why we love it: Chicago is home to a number of upscale tasting menus but few are able to match Oriole's deft execution. Upon arrival, guests are escorted into a freight elevator and given a drink before the door opens to reveal the dining room. Though there's no telling what Sandoval has in store each evening, you can look forward to a minimalist style of cooking that puts the spotlight squarely on the premium ingredients. Acclaimed mixologist Julia Momose and beverage director Aaron McManus complement the food with inventive cocktails and an Old World-inspired wine list.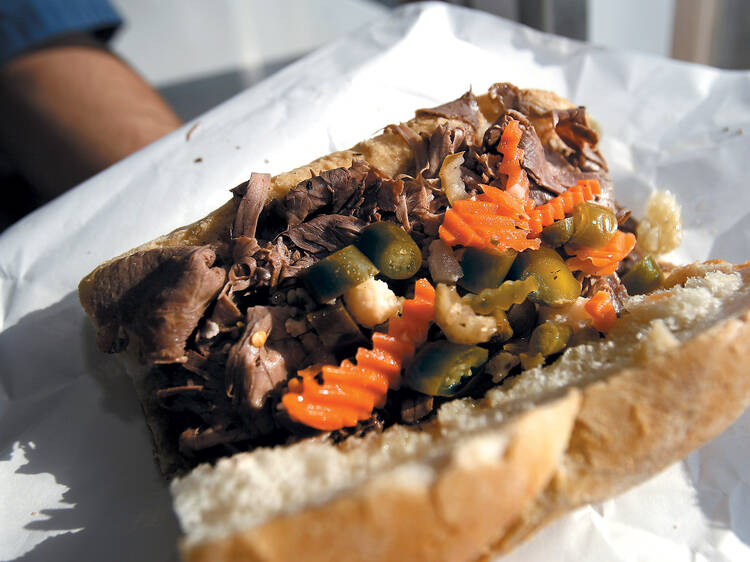 Photograph: Michael Jarecki
2. Johnnie's Beef
Restaurants

Hot dogs

Suburbs
What is it? An old-school Italian beef and ice stand over in Elmwood Park.
Why we love it: Just like with deep dish pizza and Chicago-style hot dogs, locals will never agree on the best Italian beef maker. The closest to a consensus is Johnnie's, a legendary spot that necessitates a pilgrimage to the suburbs. You'll have plenty of time to decide on what to order as you wait in line behind regulars, but we suggest getting the beef—dipped and with hot peppers. Order a lemon Italian ice to cool your mouth off afterwards.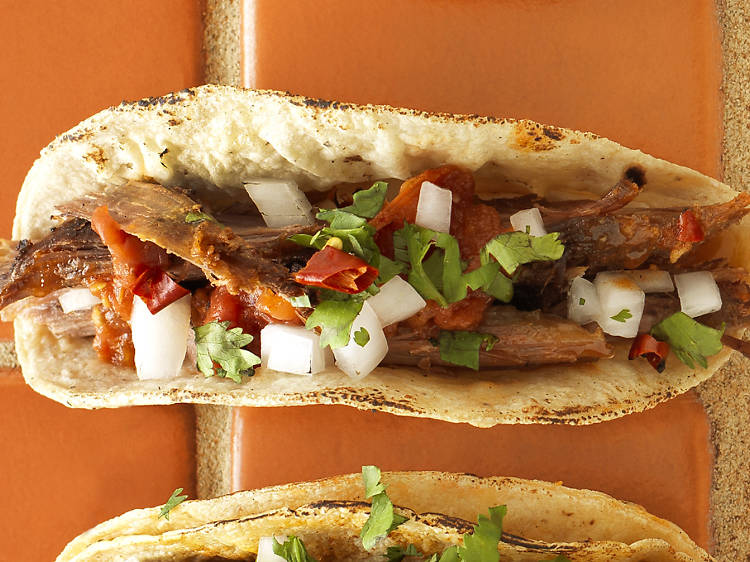 Photograph: Brendan Lekan
3. Birrieria Zaragoza
Restaurants

Mexican

Archer Heights
What is it? A family-owned Mexican spot in Archer Heights that's the G.O.A.T. when it comes to goat meat.
Why we love it: Thick handmade tortillas, salsas made to order, bright-pink agua fresca—you can get all of that to go. Their only purpose, however, is to accompany the restaurant's signature platters of chopped goat meat. Unlike other birrierias, this goat doesn't touch a consommé until it's plated, when some of the tomato-based broth is spooned over it. At that point, a good dousing of hot sauce, and maybe a squeeze of lime and some onions, is all you need for the city's best tacos.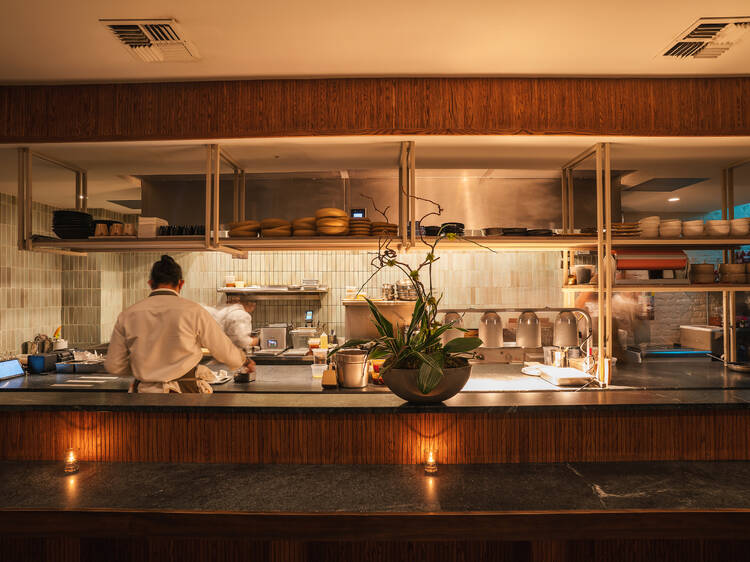 Photograph: Kristen Mendiola
4. Kasama
Restaurants

Filipino

East Village
What is it? A modern Filipino-American bakery and fine dining restaurant from husband-and-wife team Tim Flores and Genie Kwon (Oriole), Kasama boasts both a Michelin-starred tasting menu and a selection of casual daytime dishes that'll have you saying "I'll take one of each."
Why we love it: Believe any and all of the hype on this one: Kasama really is as good as they say it is. Come by in the morning for brunch fare like a longanisa-topped breakfast sandwich or a full Filipino breakfast (longanisa/tocino, fried egg, garlic fried rice and pickled papaya) and some of Chicago's best pastries. At night, book a coveted seating for the restaurant's 13-course tasting menu, a Filipino-inspired journey that swings from dishes like nilaga with A5 wagyu to a perfect little croissant served with a sprinkling of freshly shaved black truffles.
Time Out tip: If you don't have your heart set on dining indoors, skip the inevitable weekend line and order online for pickup—we promise your meal will taste just as good.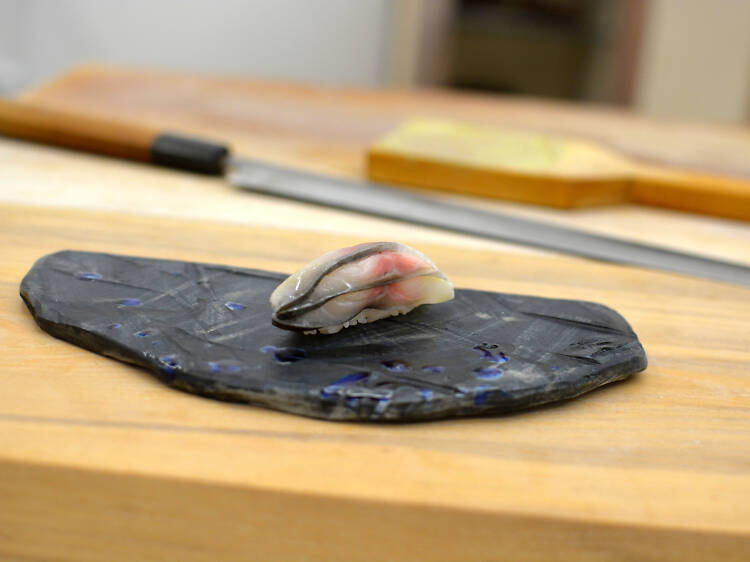 Photograph: Courtesy Kyōten
5. Kyōten
Restaurants

Japanese

Logan Square
What is it? An eight-seat sushi counter run by bold and ambitious chef Otto Phan.
Why we love it: Phan left Austin, Texas to come to Chicago with the goal of creating the city's best sushi. He fulfills those aspirations every night at his nondescript Logan Square restaurant, which is also one of the most expensive experiences in town. Those who are able to secure a seat are treated to a front-row view of the chef slicing raw fish and serving it on extra large rice grains that have been seasoned with aged red vinegar. You'll pay a pretty penny but Kyoten's omakase provides some of the finest bites money can buy, made with luxurious products flown in from Japan.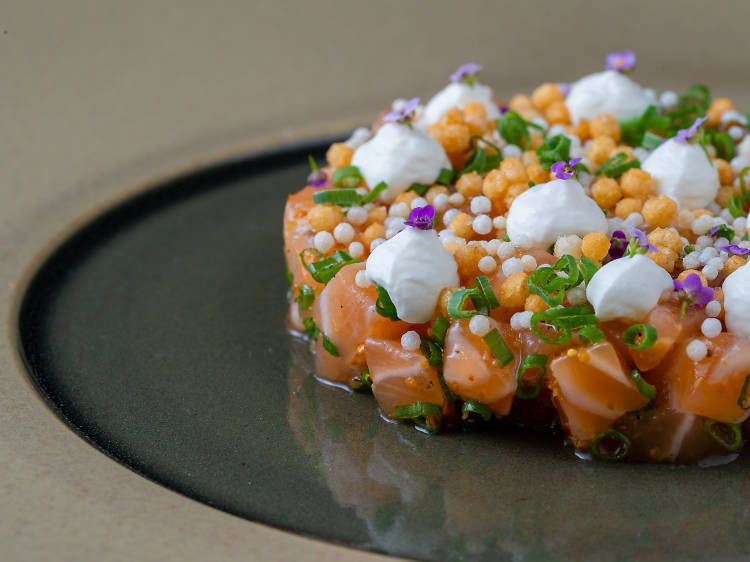 Photograph: Hahm Visuals
6. Jeong
Restaurants

Korean

River West/West Town
What is it? An upscale Korean restaurant from talented chef Dave Park and his partner Jennifer Tran.
Why we love it: Jeong is the fanciest Korean experience in Chicago, bar none. Park, who previously ran celebrated food court stall Hanbun in the suburbs, uses modern preparations to elevate traditional flavors. His tasting menu showcases gorgeous and inventive plates, like a disc of salmon tartare topped with doenjang yuzu gastrique, crunchy rice pearls and dollops of crème fraiche.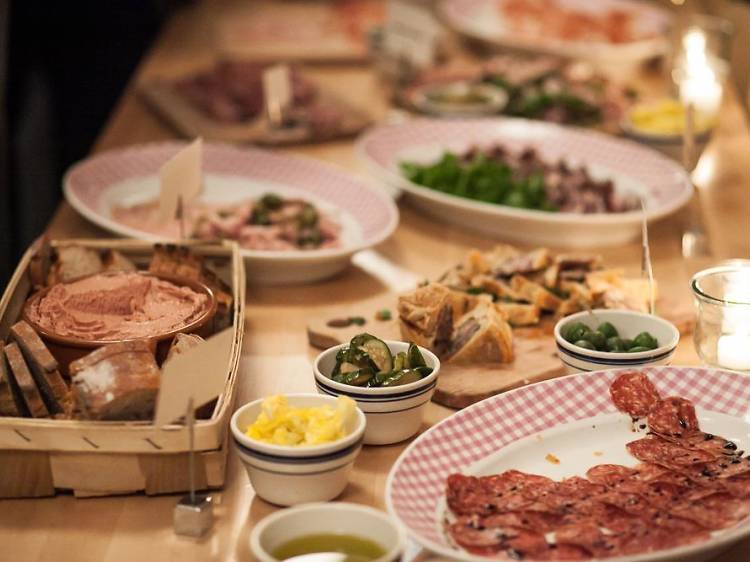 Photograph: Courtesy of the Publican
7. The Publican
Restaurants

American

West Loop
What is it? A European-style beer hall focusing on pork and seafood from one of Chicago's most notable restaurant groups.
Why we love it: One Off Hospitality Group's shrine to beer, pork and seafood hasn't skipped a beat since debuting back in 2008. Boisterous crowds pack the long communal tables and booths that resemble pig pens for a taste of everything from oysters and charcuterie to veggie-forward plates. The selection changes often to highlight what's in season, but mainstays like spicy pork rinds and bread service courtesy of Publican Quality Bread are musts. A good chunk of the ingredients on the menu are also sourced from local farms.
Time Out tip: Don't overlook brunch at the Publican. It's among the top weekend options and offers goodies like thick cut maple-braised bacon.
8. S.K.Y.
Restaurants

Lower West Side
What is it? Named after his wife's initials, chef-owner Stephen Gillanders' Pilsen restaurant offers an Asian-inspired menu that's not afraid to experiment.
Why we love it: Nothing is quite what you expect it to at S.K.Y., making for a dining experience that's filled with delightful surprises. From the Japanese ceasar salad to the foie gras bibimbap, the flavors and presentations frequently go against your expectations—just embrace (and enjoy) the unpredictability.
9. Mi Tocaya Antojería
Restaurants

Mexican

Logan Square
What is it? Translating to "my namesake" in Spanish, Mi Tocaya is a term of endearment that chef Diana Dávila has bestowed upon her neighborhood Mexican restaurant in Logan Square.
Why we love it: Dávila recreates childhood memories through her food, offering guests a lineup of soul-warming dishes like duck carnitas and fish in mole rojo. The guac, which is dusted with chile ash, is still on the menu, and a slate of cocktails rounds out the mix (the Ancestral Old Fashioned is brilliantly balanced and truly unique).
10. Parachute
Restaurants

Korean

Avondale
What is it? A small Korean-American spot from James Beard Award winners Beverly Kim and Johnny Clark.
Why we love it: The husband-and-wife duo emphasize quality over quantity so expect a brief menu. You should rest easy, though, because every dish is stellar. To start, the seafood pancake—consisting of shrimp, calamari, garlic chives and spring onions—is remarkably crisp and accompanied by an onion-chili dipping sauce, while the yukhoe (Korean beef tartare) can be taken to the next level with the addition of caviar. The bossam platter is the star of the mains, featuring pork belly, pork collar, kimchi and cabbage to make wraps with, as well as oysters on the half shell.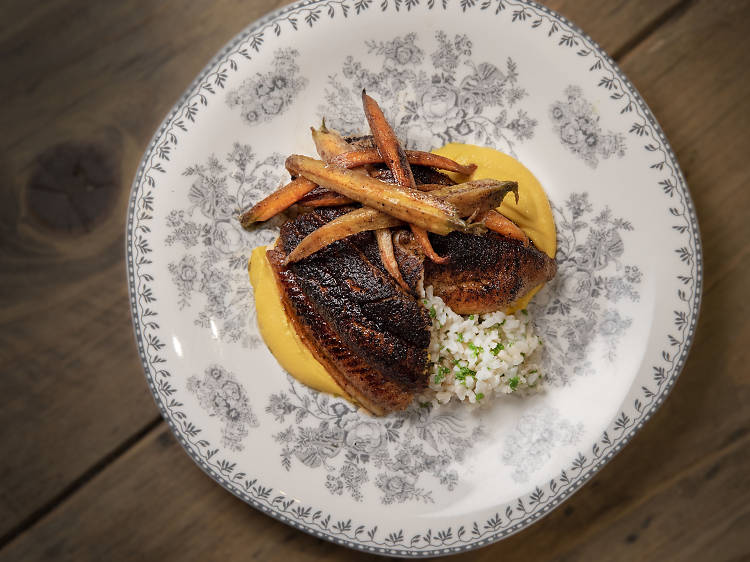 Photograph: Gary Adcock / Studio37
11. Virtue
Restaurants

Soul and southern American

Hyde Park
What is it? Chef Erick Williams's love letter to the Southern experience of cooking through passed-down recipes and reimagined expressions.
Why we love it: You can practically feel the soul oozing from the menu at this Hyde Park restaurant. It's because Williams cooks with his heart, whether he's plating fried green tomatoes with tender shrimp and creamy rémoulade or he's fixing his famous collards, which arrive studded with hunks of smoked turkey meat. Second only to the food is the ambiance, which is sexy without trying too hard—perfect for a cozy date night.
12. Maple & Ash
Restaurants

Steakhouse

Rush & Division
What is it? An opulent Gold Coast steakhouse that spares no expenses to satiate guests.
Why we love it: Chicago is home to some of the best steakhouses in the world but few can match the vibe and aesthetic of Maple & Ash. Upstairs on the posh second floor dining room, you'll spot groups of 20-somethings celebrating birthdays, couples on date nights or power brokers doing business. Chef Danny Grant's menu aims to please with delicacies like caviar, fire-roasted seafood towers, dry-aged beef and truffle agnolotti. Oh, and save room to build your own sundae for dessert.
Time Out tip: If you don't want to make any decisions, leave it in the kitchen's hands with the "I Don't Give a F*@k" tasting menu.
13. Vito and Nick's Pizzeria
Restaurants

Pizza

Ashburn
What is it? The king of thin-crust pizza done Chicago-style.
Why we love it: Serving pies since 1949 (although this location opened in '65), Vito and Nick's is a Chicago tradition. The cracker-thin, tavern-style crust is loaded up with rich red sauce, gooey mozzarella and fennel-flecked sausage chunks; test the limits with a few more toppings—we like mushroom, pepper, onion and black olives on ours. For the complete experience, stop by to sip an ice-cold Old Style in the dining room while catching a glimpse of the Bears or Sox game on TV.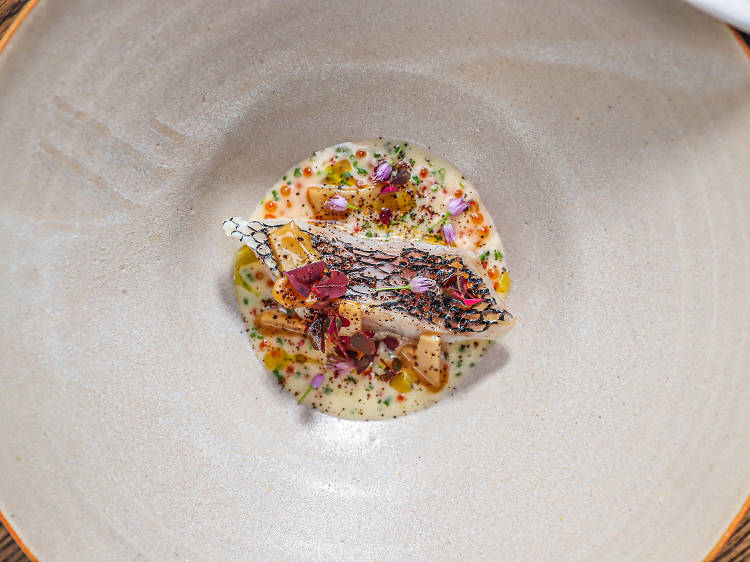 Photograph: Ally Straussner
14. Boka
Restaurants

American creative

Lincoln Park
What is it? The fine-dining beacon that started Boka Restaurant Group, one of Chicago's finest culinary collectives.
Why we love it: In its 19-plus years on Halsted Street, Boka has racked up a trophy case worth of awards, including one long-standing Michelin star and a handful of Jean Banchet Awards. But we prefer to let chef-partner Lee Wolen's impeccable techniques—on everything from dry-aged duck and roasted chicken to parsnip agnolotti—do the talking. It'd be a shame to skip dessert from pastry chef Kim Mok, who whips up dreamy, sugar-filled confections with serious range—from poached pears to chocolate angel food cake.
15. Monteverde
Restaurants

Italian

West Loop
What is it? Top Chef alum Sarah Grueneberg's pasta playground in the West Loop.
Why we love it: Italian food is meant to be shared, and at Monteverde, that's never an issue. Fill your table with a smogasboard of small plates, handmade pastas and shareable mains (read: they're freakin' huge). You absolutely mustn't skip the burrata e ham starter—which comes with warm English muffin-like rounds called tigelle—nor the spaghetti al pomodoro, a simple but soul-affirming dish that stars Grueneberg's spot-on roasted tomato sauce.
16. Smyth + The Loyalist
Restaurants

American creative

West Loop
What is it? John Shields and Karen Urie Shields's two-for-one special in the West Loop: a fine-dining destination upstairs and the city's best burger in the sultry basement.
Why we love it: You can choose your own adventure at this double feature—and neither option will lead you astray. Cozy up on the couch with the Loyalist's famed Dirty Burger, a messy medley of cheesy, oniony goodness that's now available for takeout and delivery. Or splurge for Smyth's multi-course tasting menus, a two Michelin-starred exploration of Smyth County, Virginia.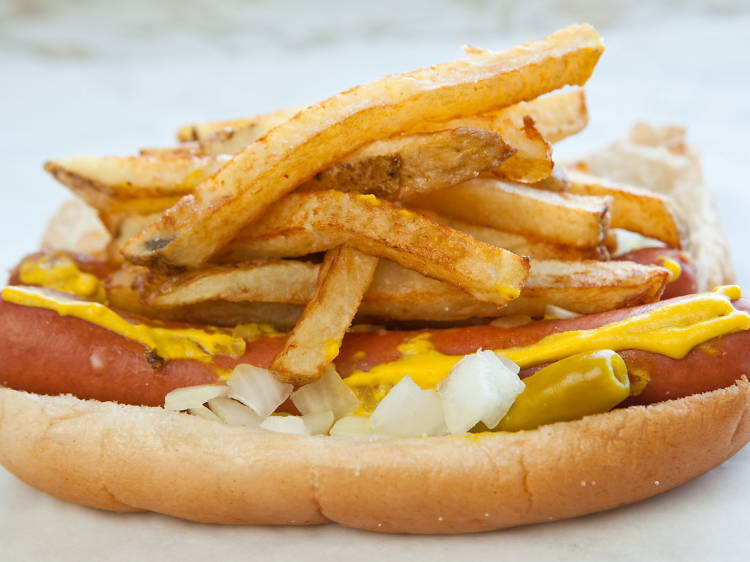 Photograph: Courtesy Gene and Jude's
17. Gene & Jude's
Restaurants

Hot dogs

Suburbs
What is it? A venerable hot dog stand in River Grove.
Why we love it: While most people are familiar with Chicago hot dogs that have been dragged through the garden, a handful of places still serve a lesser-known variant referred to as a Depression Dog. This minimalist style is garnished with just yellow mustard, onions, sport peppers and relish, and topped with a pile of fries. And none do it better than Gene & Jude's, a timeless institution that first opened in 1946.
Time Out tip: Don't ask for ketchup. Don't even think about it.
18. HaiSous Vietnamese Kitchen
Restaurants

Vietnamese

Lower West Side
What is it? Chef Thai Dang and co-owner Danielle Dang's love letter to Vietnamese cooking, showcasing rich flavors and overlooked dishes.
Why we love it: No matter how familiar you may be with Vietnamese cuisine, there's a good chance that something on HaiSous's menu will surprise you. Stick to standards like crispy wings covered in caramelized fish sauce or branch out by trying an octopus salad with eggplant confit. If you prefer a guided dining experience, order one of the tasting menus served family-style.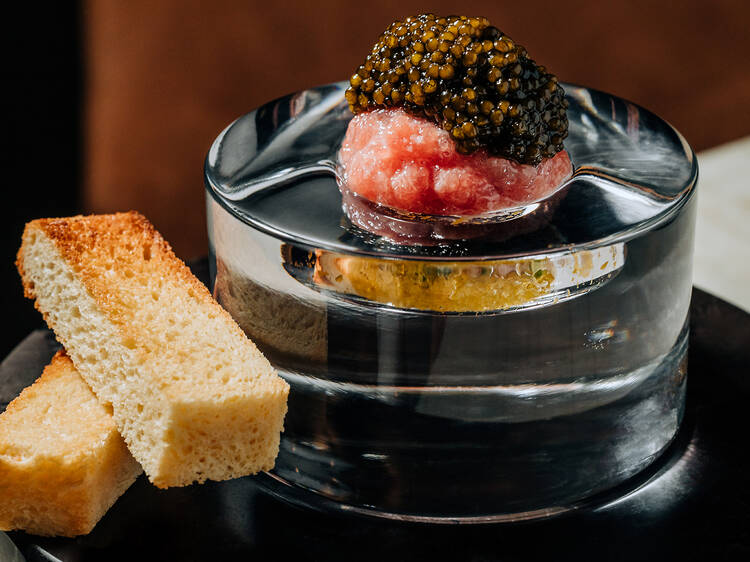 Photograph: Lindsay Eberly
19. The Omakase Room at Sushi-san
Restaurants

Japanese

River North
What is it? An intimate 10-seat omakase restaurant tucked away inside Sushi-san.
Why we love it: Led by chef Kaze Chan, The Omakase Room is a dazzling experience that's both elegant and unstuffy. Diners are seated at a sushi counter, where they have a close-up view of the action. The convivial atmosphere encourages chit-chatting with the staff as they slice pristine pieces of raw fish to create 18 memorable courses, which include caviar-topped otoro tartare and uni ice cream.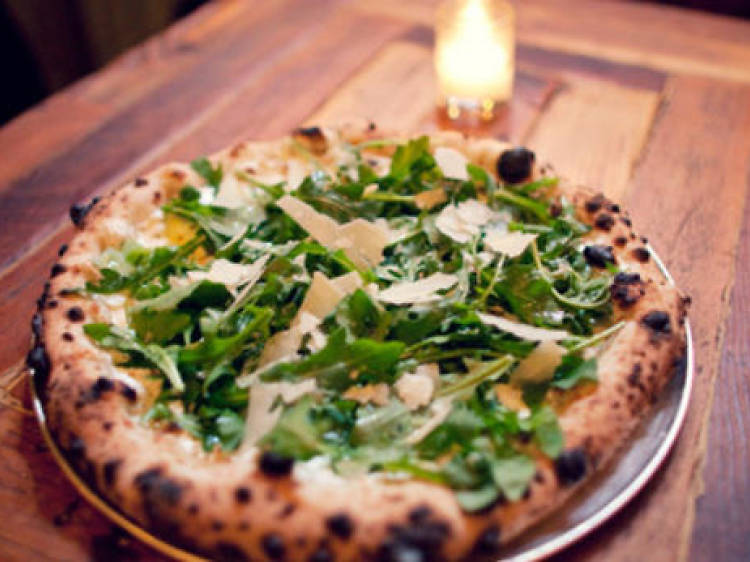 Photograph: Lizz Kuehl
20. Paulie Gee's
Restaurants

Pizza

Logan Square
What is it?: A Brooklyn-based pizzeria slinging excellent Neapolitan-style wood-fired pies.
Why we love it: Crispy crusts coming out of a 1,000-degree oven are topped with a range of exciting toppings, including bacon jam, pickled pineapples and hot honey. The menu is also packed with vegan options, several of which feature vegan mozzarella and cashew ricotta. The true stars of the menu, though, may be the Detroit-style Logan Squares. Owner Derrick Tung won the 2018 U.S. Pizza Cup with a recipe that uses three types of cheese, pepperoni cups, bacon jam, ricotta, basil and hot honey. Served on a hearty crust lined with crispy caramelized cheese, it's easy to taste why this one's a winner.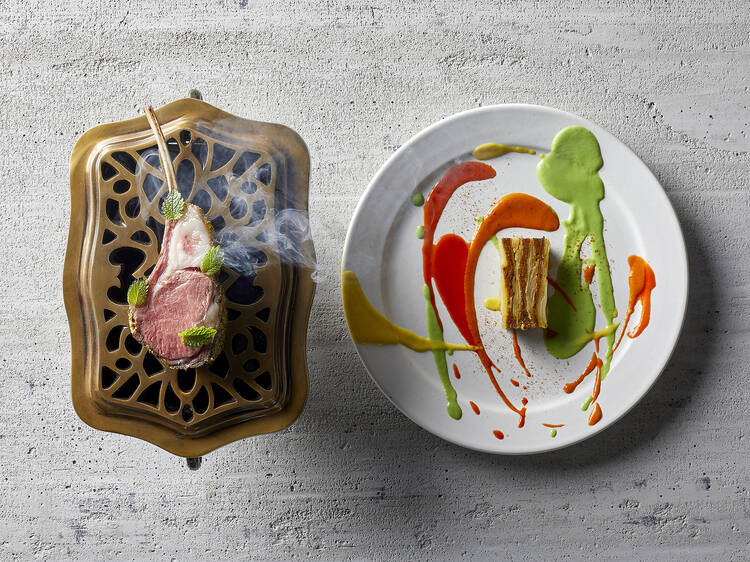 Photograph: Neil John Burger
21. Indienne
Restaurants

Indian

River North
What is it? An upscale, modern Indian experience led by chef Sujan Surkar.
Why we love it: There's really no other restaurant in Chicago quite like Indienne. Surkar uses refined techniques on South Asian recipes to create memorable plates, such as a poached egg bathed in curry studded with peas, sweet corn and crispy onions. The tasting menus are also very reasonably priced for what they offer.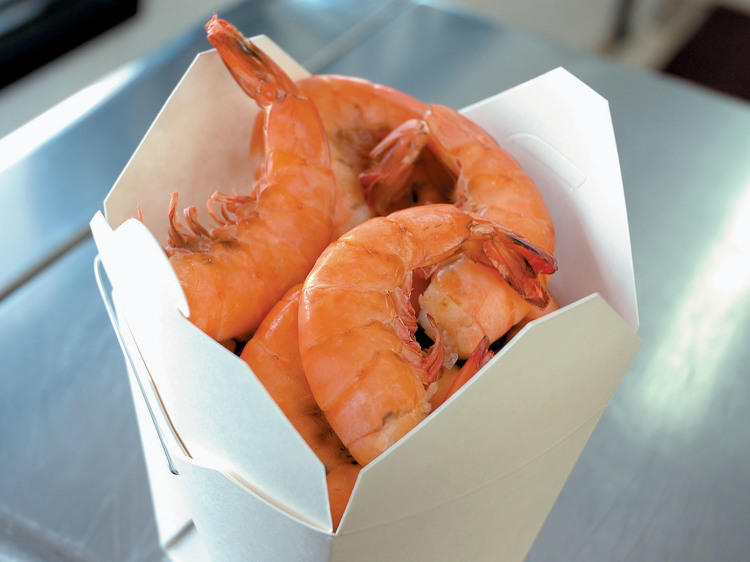 Photograph: Brendan Lekan
22. Calumet Fisheries
Restaurants

Seafood

South Deering
What is it? Chicago's quintessential cash-only seafood smokehouse, located just north of the Indiana border.
Why we love it: Remember the bridge-jumping scene in Blues Brothers? It happened right next to Calumet Fisheries. The best way to get there is to drive—mostly because your car will double as your table when you leave with your bounty. One of the state's few remaining smokehouses, Calumet smokes all of its own seafood in-house using only natural wood. You can taste the difference when you sample the salmon, catfish and sturgeon—all of which are available by the pound. That shouldn't stop you from tacking on an order of crispy shrimp and cocktail sauce, the perfect grab-and-dunk appetizer for eating on the go.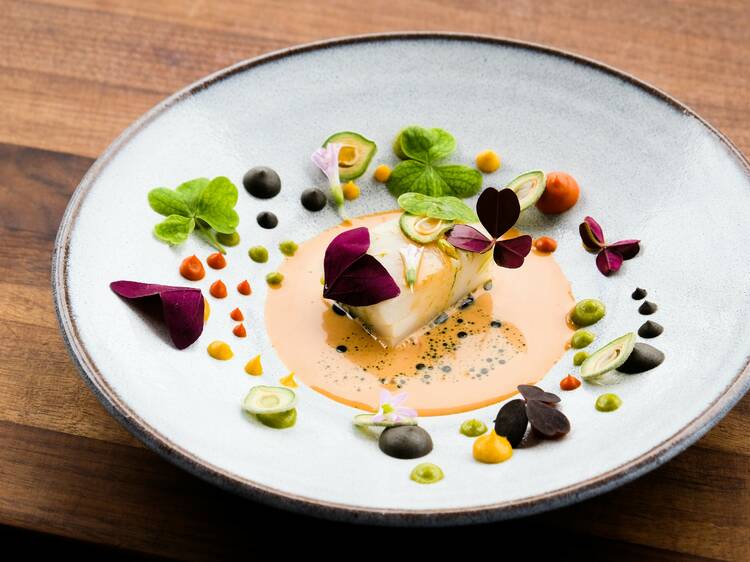 Photograph: Mimi Lie
23. Duck Sel
What is it? A fine dining experience from Michelin-starred chef Donald Young.
Why we love it: There are plenty of fine dining restaurants in Chicago, yet there's nothing quite like Duck Sel. Donald Young, the former Michelin-starred chef of Temporis, hosts a series of monthly pop-up dinners out of an undisclosed location, where he treats guests to whimsical courses showcasing local, seasonal ingredients and avant-garde techniques. Think of it as a secret supper club, only way better.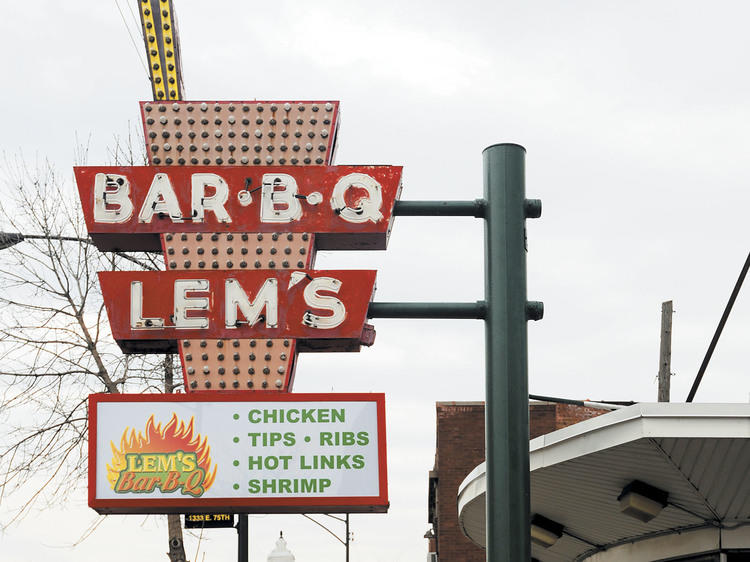 Photograph: Courtesy Lem's Bar B Q
24. Lem's Bar-B-Q
Restaurants

Barbecue

Greater Grand Crossing
What is it? A rite of passage for local and visiting chowhounds alike, Lem's is an institution-status barbecue house that deals in meaty things and fried chicken.
Why we love it: Chicago may not be known as a barbecue destination in its own right, but Lem's single-handedly puts the South Side on the map with its unique aquarium-style smoker, which weighs in at 64 square feet. Regulars love the rib tips and hot links—and luckily, the combo meal gets you a taste of both. It's takeout only at Lem's, so plan on dining in your car or taking this saucy feast home.
25. Mott St.
Restaurants

Pan-Asian

River West/West Town
What is it? An Asian fusion spot that serves an eclectic selection of street-food-inspired bites.
Why we love it: The core of the menu is Korean, but influences from other Asian cuisines are littered throughout. You'll sit down to options such as jumbo everything wings, pork-shoulder-stuffed cabbage and udon noodles with marinated cod roe and kimchi. The ballyhooed Mott Burger is also as good as advertised—an East-meets-West creation packing double patties, sweet potato shoestrings, miso butter onions, American cheese, dill pickles, pickled jalapenos and hoisin aioli.
Time Out tip: If you want to eat the burger at a table, it's only offered in the dining room before 7pm. Otherwise, it's available all night long at the bar.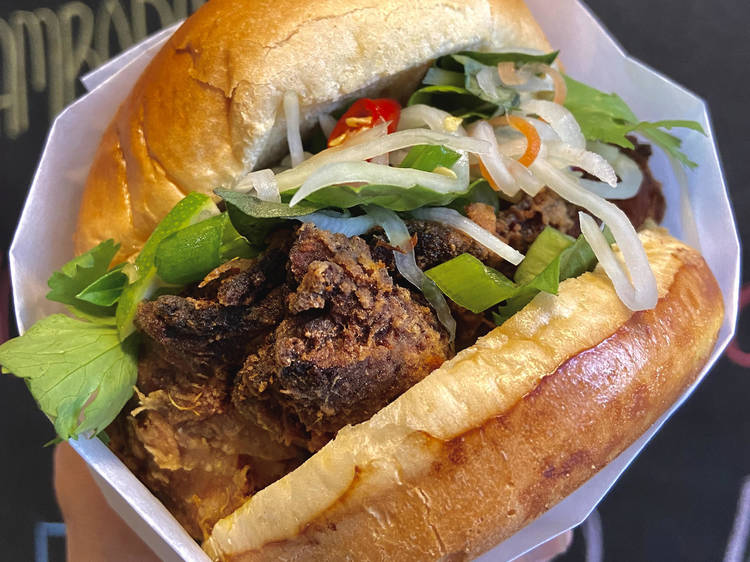 Photograph: Courtesy Hermosa
26. Hermosa
Restaurants

Cambodian

Hermosa
What is it? A sandwich shop by day and a Cambodian dining experience in the evening.
Why we love it: This tiny storefront slings exceptional Cambodian fried chicken sandwiches during lunchtime but the real magic happens at night. That's when owner Ethan Lim welcomes diners in for a 7-8 course Family Meal that showcases contemporary takes on Southeast Asian recipes. Plus it's BYOB.
Time Out tip: There's only one seating each night, for up to eight guests, and reservations fill up months in advance so plan accordingly.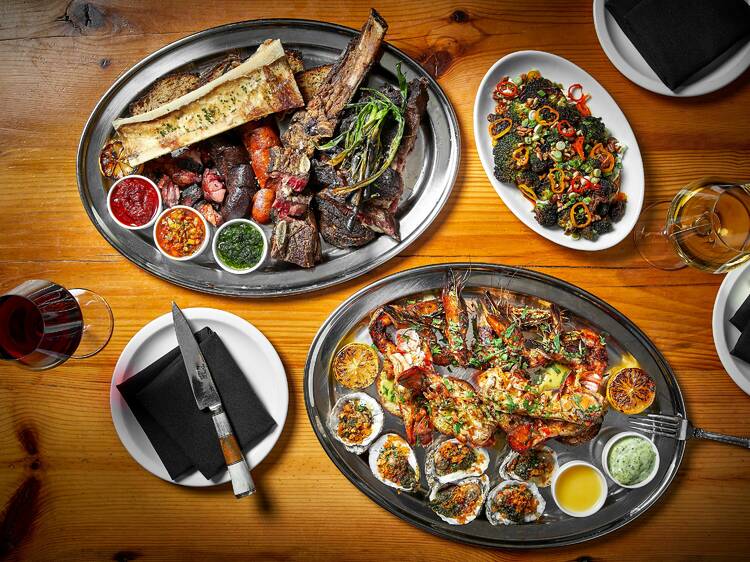 Photograph: Courtesy of El Che Steakhouse & Bar
27. El Che Steakhouse & Bar
Restaurants

American

West Loop
What is it?: An Argentinian-influenced steakhouse that pays homage to the country's beloved asados.
Why we love it: The smells coming from the kitchen's 12-foot custom-built hearth are intoxicating and serve as a love letter to Argentina. Chef John Manion's selection of flame-kissed veggies, meats and seafood are unrivaled, boasting premium cuts from sources like Creekstone Farms in Kansas and Michigan's Vander Farmers. For an authentic South American experience, try the parrillada platter. It's loaded with sweetbreads, morcilla, chorizo, steak, bone marrow and much more.
Time Out tip: If you want to get up close to the fiery action, book a seat at the chef's counter. Manion also offers grilling classes once a month.
28. Tanta
Restaurants

Peruvian

River North
What is it? A Peruvian standout sporting a fabulous rooftop during the summer months.
Why we love it: Tanta celebrates the cooking of South America with a menu that touches on all of the greatest hits. There are ceviches and tiraditos aplenty, in addition to Nikkei bites, which are a fusion of Peruvian and Japanese flavors. But you also can't go wrong with the heartier items like the pollo a la brasa and the chaufa aeropuerto—fried rice studded with char siu pork and veggies.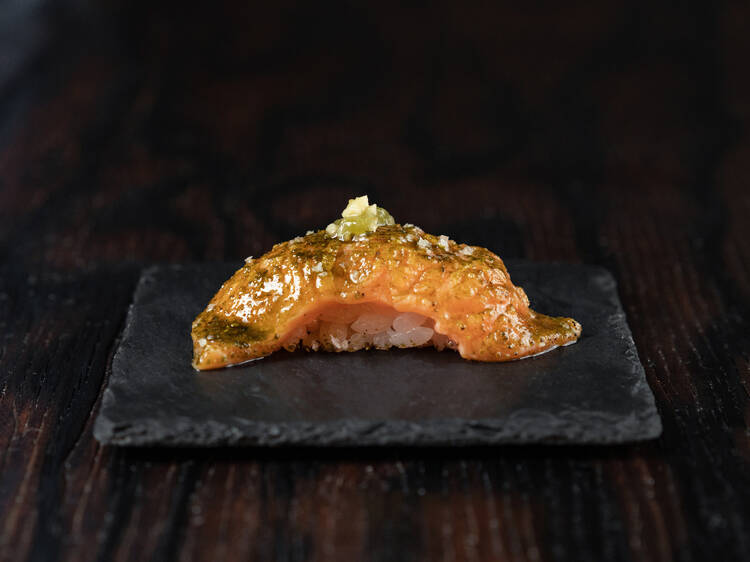 Photograph: Suzi Pratt
29. Sushi by Scratch Restaurants: Chicago
Restaurants

Japanese

River West/West Town
What is it? An omakase restaurant hidden below a River West bar.
Why we love it: Omakase concepts are abundant in Chicago, but Sushi by Scratch from husband-and-wife chefs Phillip Frankland Lee and Margarita Kallas-Lee manages to stand out from the pack. After entering a passcode on an unmarked door, you'll make your way down to a speakeasy-style space. There, a 17-course meal awaits, featuring traditional sushi preparations alongside playful riffs, and you can expect to enjoy luxuries like foie gras and unagi with bone marrow drippings.
Time Out tip: If you still have room in your stomach after dinner, grab a seat at The Drop In upstairs and devour the terrific smash burger.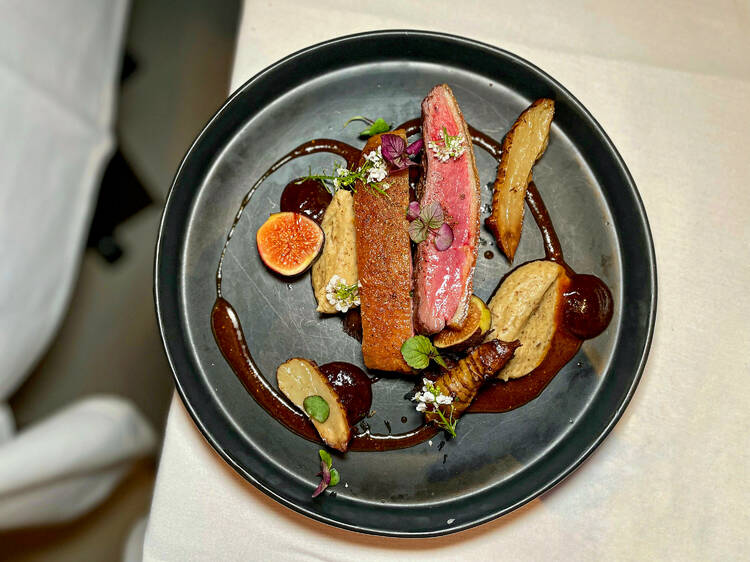 Photograph: Jeffy Mai
30. Obelix
Restaurants

French

River North
What is it? A modern French bistro from the owners of Le Bouchon.
Why we love it: Old classics get a fresh spin, such as steak tartare dressed with banh mi pickles, while original creations like the foie gras taco—the richness of the liver balanced by fruity jam—are bold and imaginative. Duck gets its own section, with a 10-day dry-aged breast being the standout, but it's hard to resist the steak frites or the Wellington if you're hankering for a nice cut of beef.
31. Lula Cafe
Restaurants

American

Logan Square
What is it? A unanimously beloved neighborhood darling that's been doing the whole farm-to-table thing long before it was a thing.
Why we love it: There's a reason Lula has been a Chicago staple for more than two decades. Chef-owner Jason Hammel and his team present dishes made with the freshest seasonal ingredients, and it shows—from pastries to turkey sandwiches to roast chicken, everything you'll eat here tastes like it's been thoroughly iterated and perfected.
Time Out tip: Lula serves brunch every day, so if you're free on a Thursday or Friday morning, your Classic Lula Breakfast Burrito awaits.
32. Topolobampo
Restaurants

Mexican

River North
What is it? Rick Bayless' groundbreaking fine dining Mexican concept.
Why we love it: The upscale sibling to Bayless' flagship, Frontera Grill, Topolobampo is every bit as memorable as when it opened more than three decades ago. Each dish tells a story and is deeply rooted in Mexico, but presented through a modern lens. An ever-changing menu means there's always something new to try, which is the perfect excuse to visit often.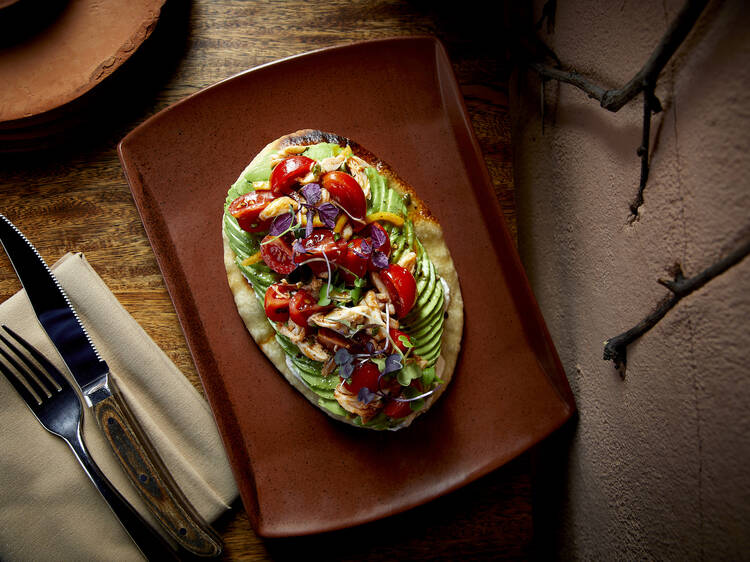 Photograph: Neil Burger
35. Tzuco
What is it? Chef Carlos Gaytán's splashy Chicago comeback: a breathtakingly beautiful River North restaurant that pays homage to his hometown of Huitzuco, Mexico.
Why we love it: Open for just a few years, Tzuco has already cemented its place among the city's best restaurants, thanks in no small part to Gaytán's French-inspired Mexican cooking. The French onion soup, for instance, is imbued with meaty poblano peppers, and the steak tartare is remixed with pickled jalapeños, cilantro, and guacamole.
Time Out tip: A heated, all-season patio makes it possible to dine outdoors no matter the forecast, but you must check out the otherworldly dining room, too.
36. Qing Xiang Yuan Dumplings
Restaurants

Chinese

Armour Square
What is it? Known to many as QXY, this Chinatown mainstay is the dumpling authority of Chicago.
Why we love it: When it comes to dumplings, we're of the mindset that more is always better. It's why we flock to QXY for the seemingly endless menu that details dozens of fillings that are sorted by protein—from pork and pickled cabbage to scallop and lotus root. If you can dream it, they probably have it. Place your order with the whole household in mind—that way, you can try a few different flavors in one sitting.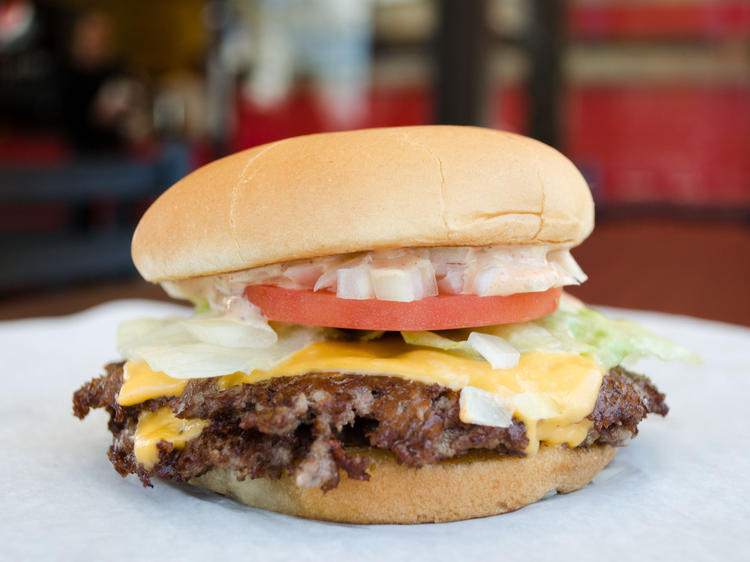 Photograph: Hannah Bourne
37. Red Hot Ranch
Restaurants

Hot dogs

Lake View
What is it? A no-fuss, late-night siren song that slings some of the tastiest burgers in town.
Why we love it: What Chicagoan hasn't found themselves at Red Hot Ranch in the wee hours of the morning in search of sustenance? For less than $7, one of the city's best cheeseburgers is yours—with thick-cut fries to boot! Thin, griddled patties shine with a little help from melty cheddar, LTO and special sauce. It's simple but undeniably decadent. Still hungry? Toss in a half-order of fried shrimp, which arrive golden in hue and accompanied by cocktail sauce for dipping. Then, sit back and let the food coma commence.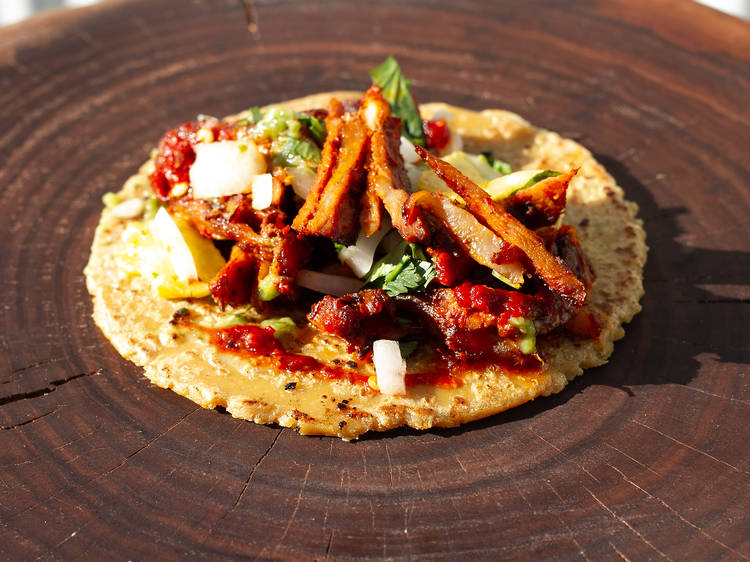 Photograph: Courtesy Taqueria Chingón
38. Taqueria Chingón
Restaurants

Mexican

Logan Square
What is it? A tasty homage to the streetside eateries of Mexico City, Taqueria Chingón brings pozole, ceviche and tortilla-wrapped meats to Bucktown.
Why we love it: The tacos al pastor are a must, with tender bits of pork finding their match in creamy avocado salsa, sweet pineapple and flecks of cilantro. Vegetarians aren't left out of the fun: There's a veg-based version of the dish that subs in portobello mushrooms and celery root to create a spot-on rendition that's anything but boring. And if you're feeling extra hungry, the churros are an irresisitible dessert.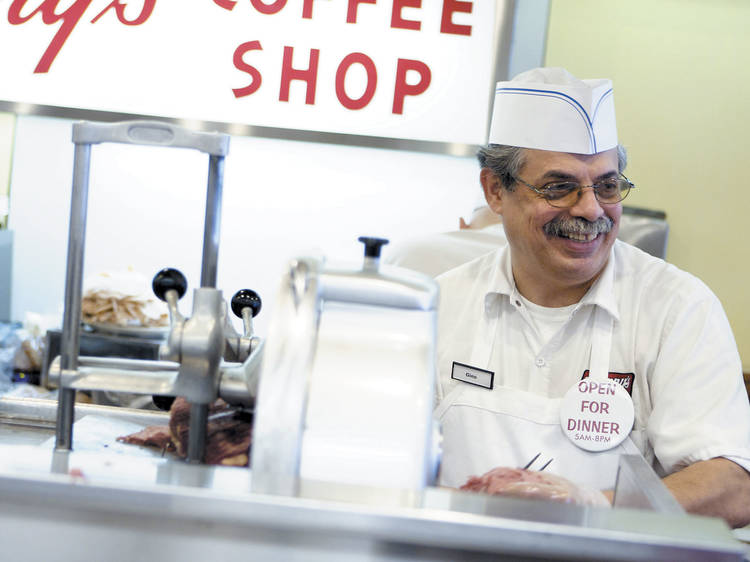 Photograph: Michael Jarecki
39. Manny's Cafeteria and Delicatessen
Restaurants

Delis

West Loop
What is it? Chicago's answer to Katz's Delicatessen, where cooks in paper hats serve gigantic sandwiches, bowls of matzo ball soup and cafeteria classics like meatloaf and pepper steak.
Why we love it: Whether you're showing up for breakfast, lunch of dinner, the Jewish deli fare at Manny's is gonna fill you up. Bring an appetite and order a generous bagel and lox, the signature corned beef or simply ask the folks behind the counter what's good today.
Time Out tip: Love Manny's meats, cheeses and bagels? You can order them in bulk and stock your home deli with everything you need to make the perfect bagel and lox.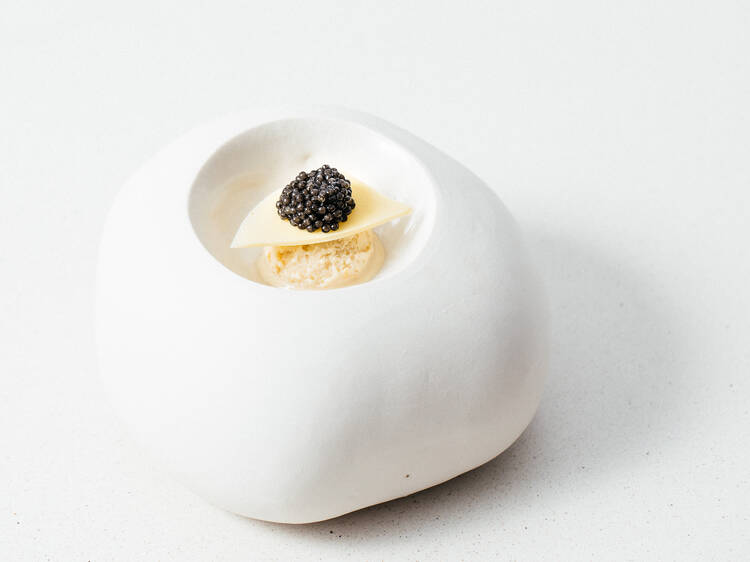 Photograph: Sandy Noto
40. Esmé
Restaurants

American creative

Lincoln Park
What is it? Chef Jenner Tomaska (Next) and his wife/business partner Katrina Bravo bring art-inspired tasting menus to a well-to-do corner near the Lincoln Park Zoo.
Why we love it: If you can afford to drop $200 on a meal, the fancy Cheetos and pork ribs slathered with Thai banana caramel served on custom serving pieces won't disappoint. Plus, Tomaska and Bravo's seasonal dinners highlight the work of local artists (like photographer Paul Octavious and painter Courtney Shoudis), with a portion of proceeds going to charity.
Time Out tip: Not ready to splurge for the tasting menu? Swing by Bar Esmé (they take walk-ins) for more modestly priced snacks.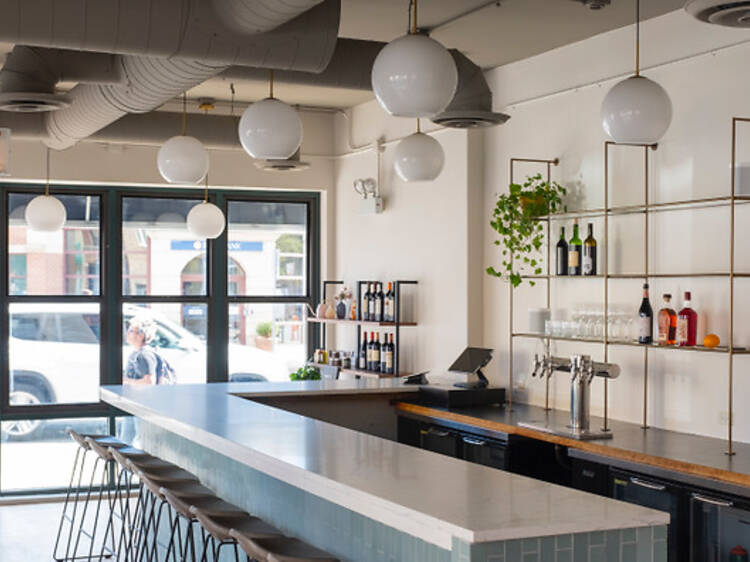 Photograph: Courtesy of Pompette
41. Pompette
Restaurants

Cafés

Bucktown
What is it? An all-day cafe and wine bar that delivers European-inspired plates and warm vibes.
Why we love it: Whether you're stopping by for coffee and a pastry in the morning, or ending the day with a glass of natural wine and light bites, Pompette will satisfy. The friendly and knowledgeable staff are happy to guide you through the predominantly European bottle list while you nosh on dishes like crab croquettes and buttermilk fried quail drizzled with hot honey.
Time Out tip: Brunch—available daily—is when you'll find a standout burger packed with two Slagel Farm patties, caramelized onions and secret sauce.
42. Osteria Langhe
Restaurants

Italian

Logan Square
What is it? An intro course to regional Piedmontese cuisine through truffles, cream and eggy pastas.
Why we love it: Allow us to count the ways. The plin, miniature agnolotti filled with cheese, are beautiful and light; the beef tartare is impeccably seasoned; and the vitello tonnato tops tender slices of beef with a vibrant tuna citrus caper aioli. In case you needed further proof that Osteria Langhe has elevated Chicago's Italian restaurant scene, order the creamy panna cotta to finish the evening.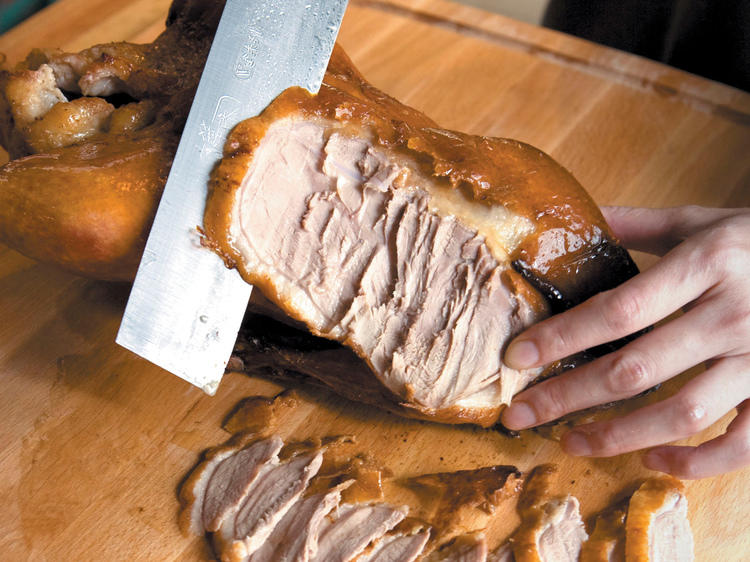 Photograph: Erica Gannett
43. Sun Wah BBQ Restaurant
Restaurants

Chinese

Uptown
What is it?: A Chinese stalwart specializing in barbecued meats.
Why we love it: Roasted meats hanging in the window beckon passersby into Sun Wah. Follow their lead to enjoy everything from barbecue and roast pork to salt-baked chicken. You'll see many tables ordering the Beijing duck dinner and for good reason—this multi-course feast stars a crispy whole duck carved tableside and served with bao buns. The remains are then used to make duck fried rice and duck soup.
Time Out tip: Reserve the popular duck dinner ahead of time to ensure it doesn't sell out.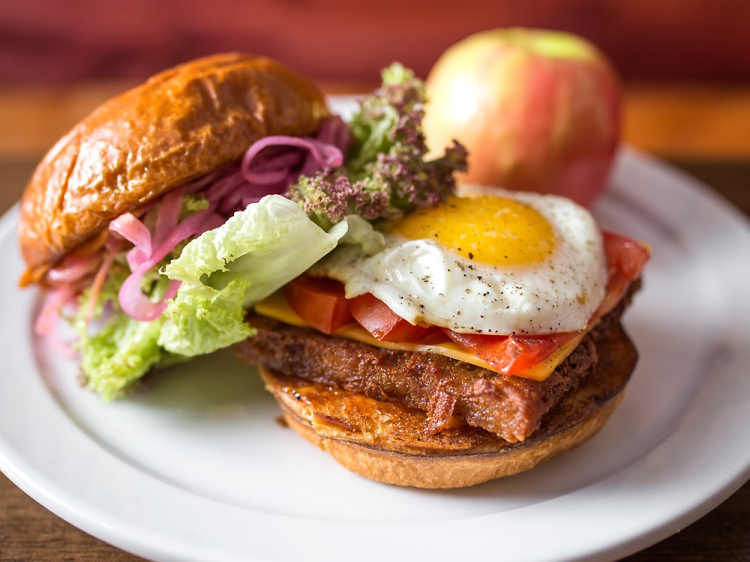 Photograph: Tim McCoy
44. Tempesta Market
Restaurants

Delis

River West/West Town
What is it? A deli and sandwich shop from a father-son duo.
Why we love it: The menu rotates constantly, so your go-to sandwich may be here today and gone tomorrow, but that just means there's always an opportunity to discover a new favorite. One offering that never leaves the lineup is the Dante, a riff on the Italian sub that's loaded with six layers of house-cured meats.
Time Out tip: Get some 'nduja to take home. The spicy, spreadable salami from Italy's Calabria region is the signature specialty.
45. Community Tavern
Restaurants

Pan-Asian

Portage Park
What is it? A modern American restaurant with serious pan-Asian influence.
Why we love it: Beyond serving one of Chicago's best burgers (we mean it), Community Tavern is a special neighborhood gem that we return to again and again without tiring of the menu that husband-and-wife team Joey and Brenna Beato have dreamed up. There's always something new to explore, whether it's a new variety of dumpling the kitchen has perfected or a funky fusion dish like the loaded kim-cheese fries.
Time Out tip: Bring the family as kids eat free Tuesday-Thursday, and Sunday with the puchase of an adult meal.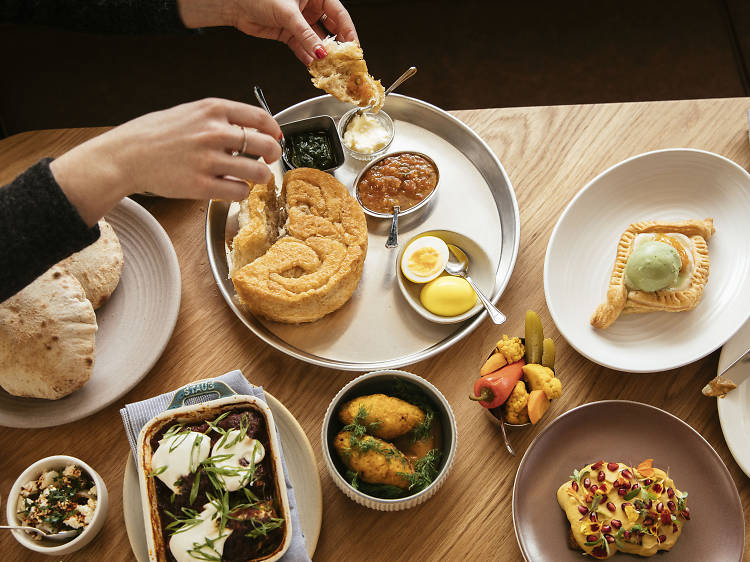 Photograph: Sandy Noto
46. Galit
Restaurants

Israeli

Sheffield & DePaul
What is it? New Orleans chef Zachary Engel's (Shaya) raved-about—and Michelin-starred—entry to Chicago's dining scene: a Middle Eastern eatery in the heart of Lincoln Park.
Why we love it: When we heard that Engel was packing up his bags and moving to Chicago, the anticipation was palpable. And so far, the James Beard Award winner hasn't let us down. Instead of an a la carte menu, guests choose their own four-course adventure. The kitchen orchestrates a parade of hummus, fire-roasted veggies and proteins, balloon-shaped pita and addictive sides.
47. Kimski
Restaurants

Fusion

Bridgeport
What is it? A Korean-inspired restaurant attached to popular Bridgeport bar Maria's.
Why we love it: Once you've wet your whistle at Maria's, head next door to Kimski for a host of Asian and fusion-style bar bites. Chef Won Kim complements the alcohol with items like a ssam platter, cheesy beef sandwich and spicy pork bulgogi rice bowl. When it's nice out, the back patio is one of the hottest spots in the 'hood.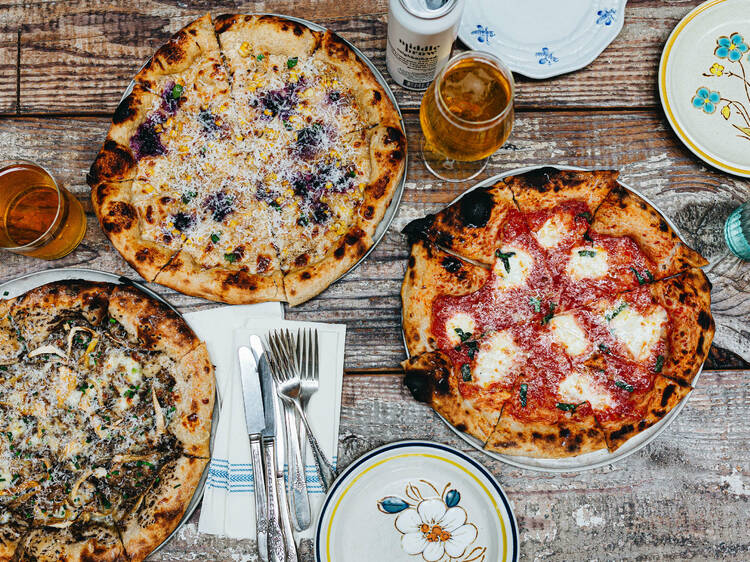 Photograph: Mandalyn Renicker
48. Middle Brow Bungalow
Bars

Breweries

Logan Square
What is it? A Logan Square brewpub with an exceptional bread and pizza program.
Why we love it: The experimental beers alone are a good enough reason to visit, but when you also factor in Middle Brow's breads, there's no doubt—this is one of the best spots in town. During the daytime, drop by for fresh bread served with cultured butter, sweet pea ricotta or smoked trout spread. Evenings see crowds pack the house (and patio) for thin crust pies like the classic margherita and a mushroom 'za with caramelized onions and melty fontina cheese.
Time Out tip: On Tuesdays, the kitchen turns out impeccable tavern-style thin crust.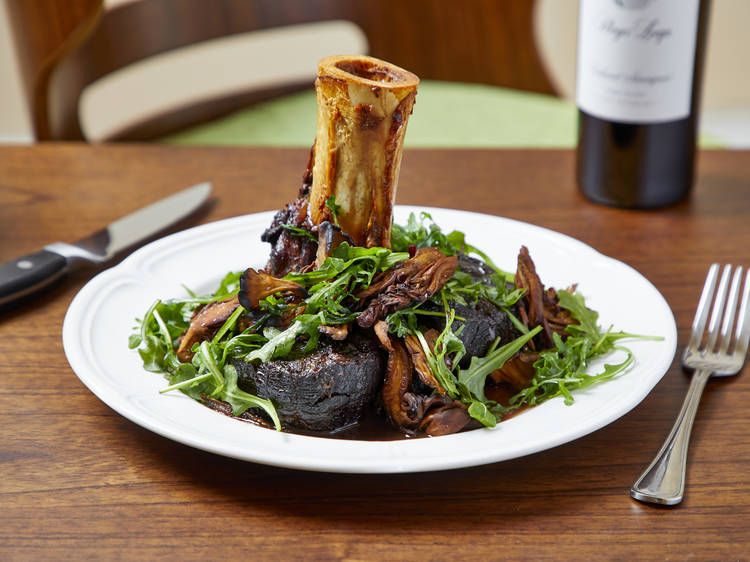 Photograph: Neil Burger
49. Dear Margaret
Restaurants

French

Lake View
What is it? An unpretentious, warm and inviting destination for hearty French-Canadian fare.
Why we love it: With a focus on seasonality and ingredients sourced from the Midwest, you'll nearly always find something new (and fresh!) to eat. The menu of charcuterie, sweetbreads and aged duck breast is rich, but executive chef Ryan Brosseau doesn't shy away from bracing, acidic flavors—like extra-tart vinaigrettes or neon Piparra peppers.
Time Out tip: No matter what time of year you visit, plan to kick off your meal with an order of fried smelts.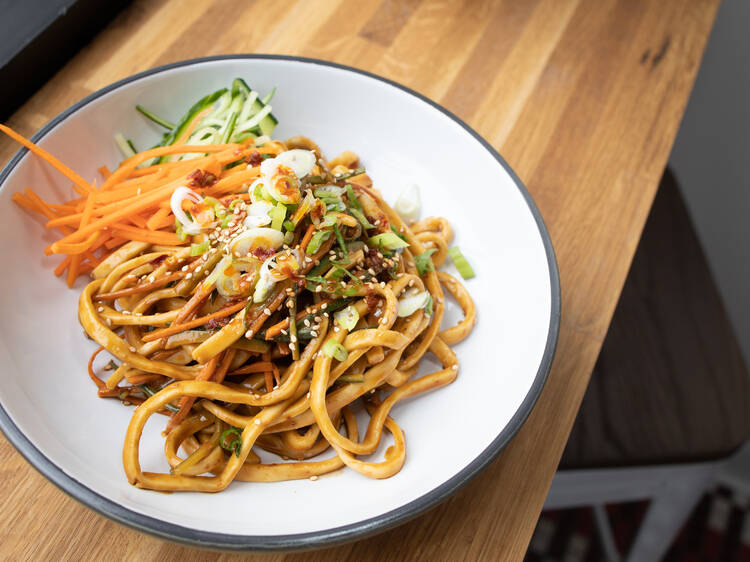 Photograph: Dank Korenevsky
50. Nine Bar
Bars

Cocktail bars

Armour Square
What is it? A dim and moody cocktail bar hidden behind a Chinatown takeout restaurant.
Why we love it: Sure, you could come just for a Mai Tai, highball or one of the Asian-tinged cocktails, but then you'd be missing out on a terrific collection of bar bites. Instead, pad the stomach with mapo hot fries, General Tso's wings, the McKatsu sando or brûléed toast. You can thank us afterwards.
Photograph: Garrett Sweet
51. Milly's Pizza in the Pan
What is it? A small Uptown pizzeria specializing in outstanding pan pies.
Why we love it: Inspired by legendary Chicago pizza maker Burt Katz, Milly's owner Robert Maleski covers the dough with mozzarella all the way up to edges of the pan, which helps produce a caramelized crust when it bakes. The pies come in a variety of creative combinations—the Craigslist.org topped with sausage, peppers and mushrooms is our favorite—and are finished with dollops of fresh mozzarella.
Time Out tip: Order ahead because the day's supply is limited.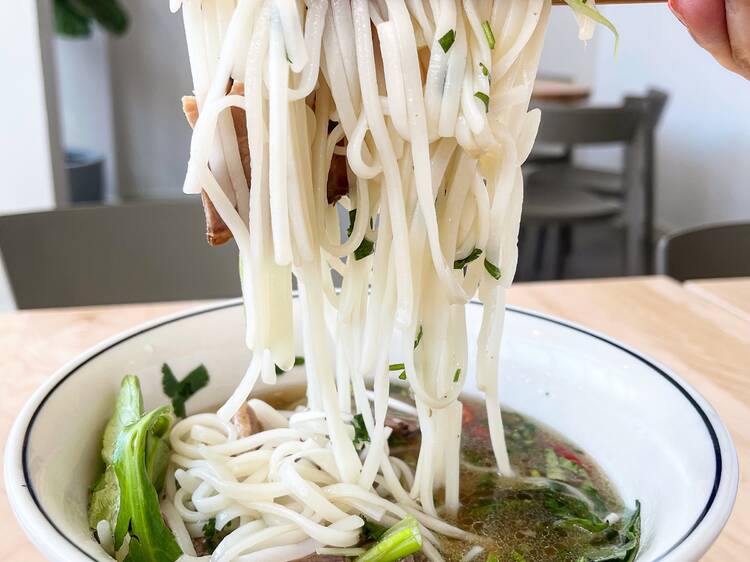 Photograph: Courtesy Sochi Saigonese Kitchen
52. Sochi Saigonese Kitchen
Restaurants

Vietnamese

Lake View
What is it? A bright, spacious Vietnamese restaurant run by husband-and-wife team Chinh Pham and Son Do.

Why we love it: Sochi Saigonese feels upscale, casual and familiar all at once, the kind of place where you could grab a lesuirely lunch with friends in the afternoon and return again in the evening for date night (and probably still have plenty left on the menu to discover, too). The food here boasts an attention to detail that bursts to life in each dish, from spring rolls made with imported Vietnamese rice paper to the long-simmered, ridiculously aromatic Saigonese pho loaded with rosy slivers of brisket, flank steak, rice noodles and herbs.
Photograph: Kevin J. Miyazaki
53. Au Cheval
Restaurants

Contemporary American

West Loop
What is it? A modern diner that draws some of the longest lines in Chicago.
Why we love it: Yes, the burger is as great as everyone says it is. Two (or three) griddled patties topped with American cheese, pickles, Dijonnaise and—optional but highly recommended—thick cut bacon is a paragon of the form. You'd be remiss, though, if you overlooked the rest of the menu. The fried bologna sandwich, General Jane's honey-fried chicken and foie gras scrambled eggs all deserve a spot on your table.
Time Out tip: Come during off-peak hours for a shorter wait time.
54. Daisies
What is it? The noodle palace from Joe Frillman that recently moved into a new, larger home in Logan Square.
Why we love it: There's something about tucking into a bowl of handmade pasta that feels like a big, warm hug. That's why we ring Daisies when we've had a long day. The menu is built around a roster of rotating pasta dishes that change with the season to highlight super-fresh ingredients like lentils, stinging nettle and green garlic. Each bite tastes a bit more special when you hear about Frillman Farms, which is owned and operated by Frillman's younger brother, Tim, and provides produce to the kitchen (as well as many other top eateries across the country). The new space is also now open durinig the day, offering coffee and delightful pastries from Leigh Omilinsky.
55. Carnitas Uruapan
Restaurants

Mexican

Lower West Side
What is it? An ode to pork that dates back to 1975, when Inocencio Carbajal brought his famed recipe to Chicago from Michoacan, Mexico.
Why we love it: What's not to love about a storefront that sells carnitas by the half-pound? Customers even get to select their meat, with choices ranging from ribs and shoulder to skin and belly. Go with the surtida, a sampler platter of all the cuts served with salsa, tortillas and all the fixings. If you've got a long car ride home, an order of chicharron should tide you over.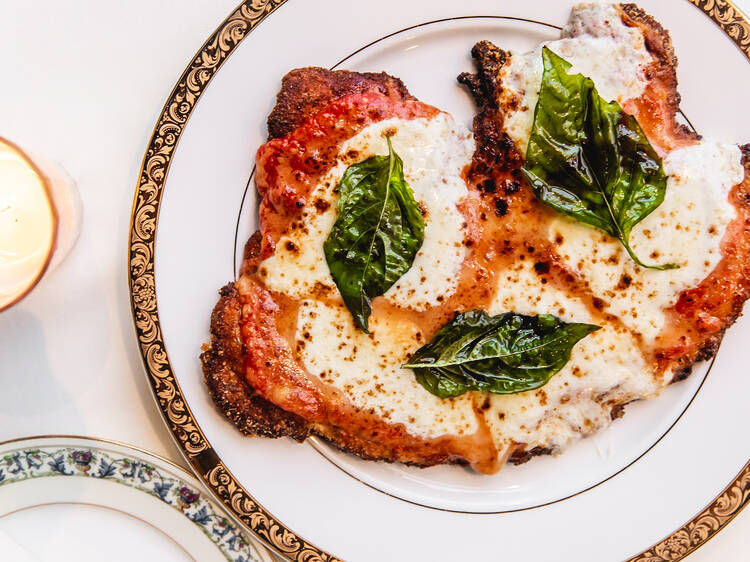 Photograph: Garrett Sweet
56. Elina's
Restaurants

Italian

River West/West Town
What is it? A 28-seat Italian-American joint in West Town offering up familiar favorites like chopped salad, chicken parmesan and rigatoni a la vodka.
Why we love it: Unlike some of its compatriots in the recent wave of new Italian restaurants, Elina's doesn't attempt to reinvent the wheel—and we sort of love them for it. Chefs Ian Rusnak and Eric Safin understand that dishes like rigatoni a la vodka and shrimp scampi don't need to be embellished with extraneous ingredients, serving quintessential, expertly executed renditions that are easy to share and perfect for satisfying any pasta-related cravings.
57. The Duck Inn
Restaurants

American

Bridgeport
What is it? A carnivore's paradise laden with duck fat hot dogs, duck wings and prime rib sandwiches, located on the border between Bridgeport and Pilsen.
Why we love it: Armed with a beautiful patio and a menu filled with rich dishes that pair well with a drink, chef-owner Kevin Hickey's Duck Inn is like the fanciest backyard barbecue you've ever been to. Relax under the sun with creative cocktail while you nibble on cheese curds and duck fat fries, or dig into decadent specialties like the rotisserie duck. It's Chicago-style food done with gusto.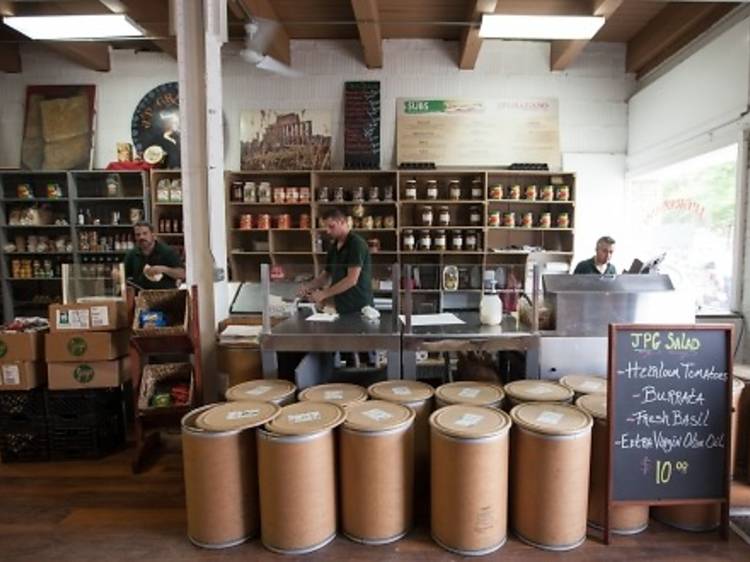 Photo: Martha Williams
58. J.P. Graziano Grocery
Restaurants

Italian

West Loop
What is it? An iconic family-owned sandwich shop that deals in Italian stackers as big as your bicep that are layered with the best cold cuts in town.
Why we love it: None of the sandwiches will set you back more than $15, but the Mr. G is our favorite: a bunch of meats—hot sopresatta, prosciutto di parma, volpi genoa salami—plus provolone, truffle mustard vinaigrette, hot oil, marinated artichokes, basil and lettuce on a long roll from D'amato's Bakery.
Time Out tip: Toss in a bottle of giardiniera or muffuletta to recreate the magic at home.
59. Dusek's Tavern
Bars

Gastropubs

Lower West Side
What is it? A gastro-tavern located inside Thalia Hall.
Why we love it: Dusek's has undergone several revisions over the years, yet it has remained a constant favorite for a pre-show dinner or just a cold beer. Chefs Geoff Thompson and Ryan Pfeiffer offer two experiences: you can grab a smash burger and slurp oysters in the bar area, or opt for a prix fixe menu centered around the wood-fired oven.
Time Out tip: If you're still hungry after a concert at Thalia Hall, drop in for the late-night menu.
60. avec
Restaurants

Mediterranean

West Loop
What is it? A Randolph Street stalwart that dishes out Midwestern-influenced Mediterranean fare with a killer wine list to match.
Why we love it: We have to believe that there are very few restaurants in the world that are as consistently special as avec. It's the kind of spot that makes us swell with pride for our dining scene, the kind of place we can't help but flock to even though there are plenty of newcomers to try. The chorizo-stuffed, bacon-wrapped dates are as good as everyone says, and an order of the "deluxe" focaccia stuffed with taleggio and ricotta cheeses is an absolute must for the table.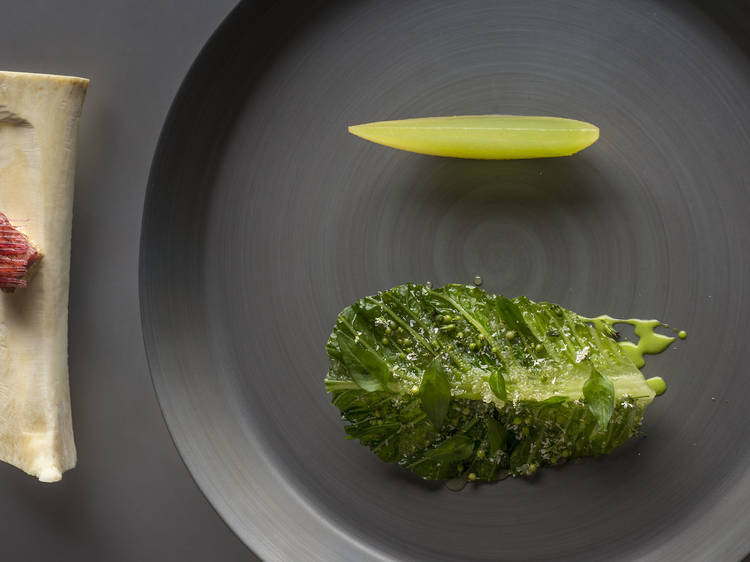 Photograph: Matthew Gilson
61. Alinea
Restaurants

Contemporary American

Lincoln Park
What is it? Chicago's lone three-Michelin-starred restaurant, helmed by the great chef Grant Achatz.
Why we love it: Arguably Chicago's finest fine dining restaurant, Alinea is as focused on the experience of having a meal as it is about what you consume. Settle in for an evening of deconstructed dishes, billowing dry ice and edible art. Every ingredient is hand-selected and each presentation is oozing with creativity—just be prepared to pay as much as $400 a head for your multi-course meal.
62. La Chaparrita
Restaurants

Mexican

South Lawndale
What is it? A taqueria attached to a corner store.
Why we love it: Focusing on tacos de fritangas, a specialty of Mexico City, La Chaparrita offers tortillas filled with a variety of muscles and organs that have been fried in a circular metal pan. The must-try is the crispy tripe taco, and don't forget to wash it down with a cup of cold horchata.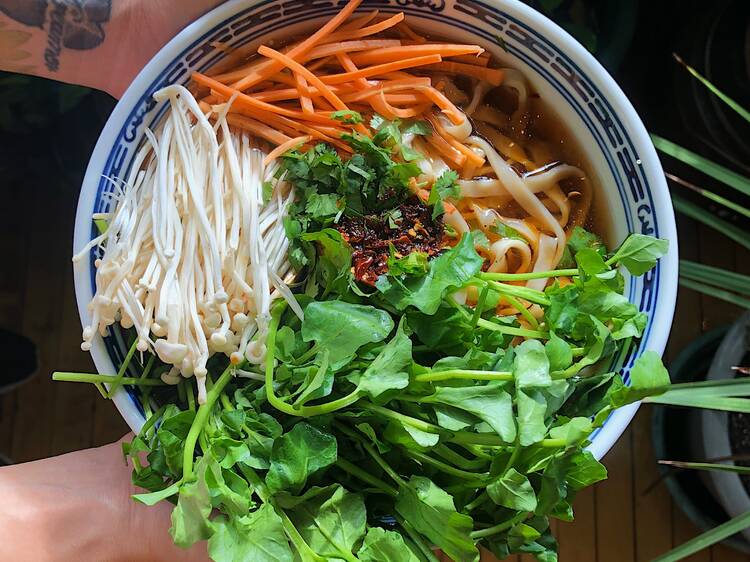 Photograph: Courtesy Lao Peng You
63. Lao Peng You
Restaurants

Chinese

Ukrainian Village
What is it? A cozy hideout for noodle-loving, dumpling-adoring Chicagoans.
Why we love it: Brothers Eric and Daniel Wat looked to family traditions to dictate their thoughtful menu. The dumplings are crafted by hand and stuffed with everything from pork and dill to mushroom and chives; they're served in an aromatic broth that tastes of shrimp, sesame, soy, garlic and chili oil. But you mustn't overdo it on dumplings, if only to ensure you still have room to slurp dan dan noodles, devour the addictive eggplant salad and eat a round of awe-inspiring lamb and cumin-spiced Xian bing bread.
64. Pequod's Pizza
Restaurants

Pizza

Lincoln Park
What is it? An unassuming neighborhood bar in Lincoln Park serving a Chicago-style pizza that's somewhere between pan pizza and deep dish.
Why we love it: A trip to Pequod's typically involves some waiting; first for a table and then for your pie to come out of the oven. But with a beer in your hand and a game on the TV, you'll be biting into the crispy, caramelized cheese that lines the crusts of these pizzas before you know it. Top your 'za however you like—nearly everything tastes good when it's immersed in Pequod's mouth-watering tomato sauce and mozzarella cheese.
Time Out tip: You can score a 7-inch personal pizza for just $7 Monday through Friday from 11am-3pm. It's a hell of a lunch special.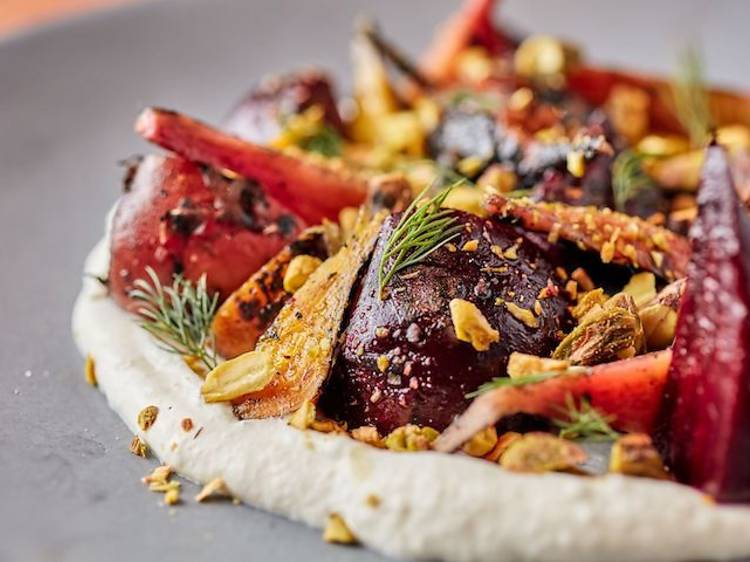 Photograph: Courtesy Rose Mary
65. Rose Mary
Restaurants

Italian

West Loop
What is it? The long-awaited Fulton Market restaurant helmed by Top Chef winner Joe Flamm, combining his passions for Italian and Croatian cooking.
Why we love it: Flamm describes the offerings at Rose Mary as "Adriatic drinking food," and we agree with this assessment. Dishes like Gnocchi with beef cheek, pork ribs and tuna crudo pair perfectly with the glasses of organic wine and cocktails that incorporate Eastern European spirits. It's possible to have a light dinner here, but you're better off arriving very hungry.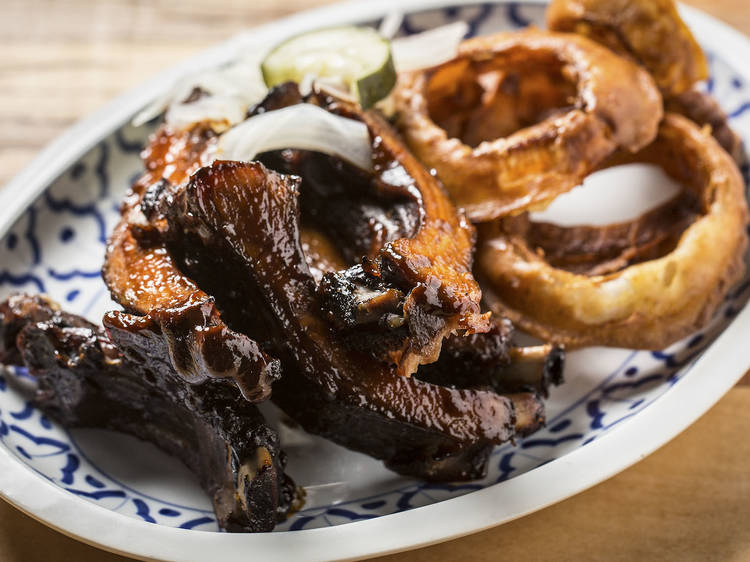 Photograph: Eugene Galdones
66. Giant
Restaurants

American creative

Logan Square
What is it? A teeny-tiny mammoth of a restaurant that nails simple, unpretentious Midwestern fare.
Why we love it: Coming out of the pandemic, Chef Jason Vincent overhauled Giant's entire menu, allowing a few classics (like the delicious onion rings) to stick around. Get cozy in the tightly-packed 44-seat dining room and explore the varied offerings, including extremely solid pastas, flank steak, bougie scallops and a microwaved chocolate cake that you probably couldn't replicate at home.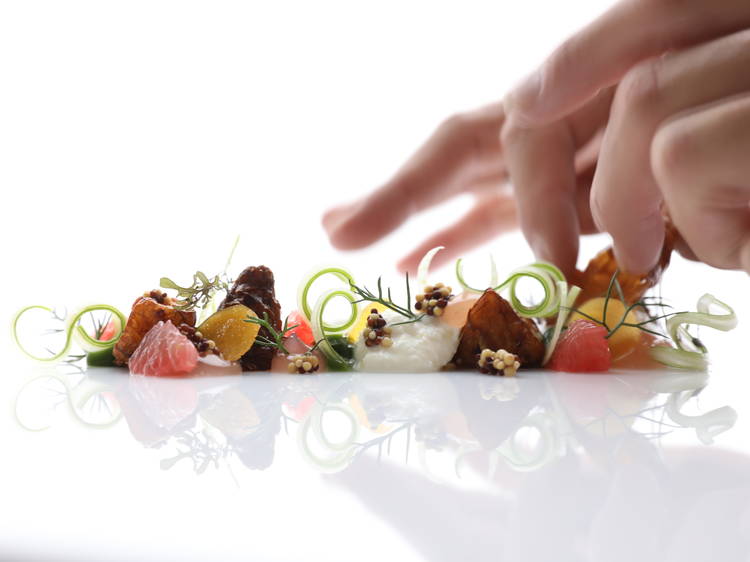 Photograph: Michael Muser
67. Ever
What is it? Curtis Duffy and Michael Muser return to Chicago's dining scene with a fine-dining beacon that offers a set menu consisting of eight to 10 courses.
Why we love it: Getting a reservation at the latest concept from the team behind Grace isn't cheap, but the ambitious (and beautifully plated) dishes based around proteins and seasonal vegetables are a must for fine-dining enthusiasts. And sitting in the dimly lit, seriously sexy dining room is nearly as thrilling as the cuisine that's served to you over the course of your two-hour meal.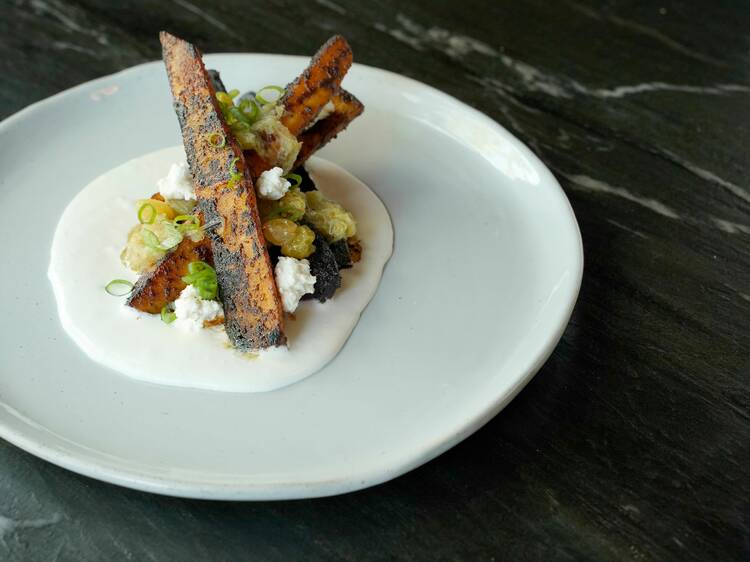 Photograph: Courtesy of Eden
68. Eden
Restaurants

American

Avondale
What is it? An Avondale restaurant that truly exemplifies farm-to-table.
Why we love it: Most places preach seasonality, but Eden bases its whole identity around it. A greenhouse on site provides fresh, quality ingredients, and the kitchen uses a wood-burning oven to turn out incredible creations like grilled berbere-spiced carrots jazzed up with goat cheese purée. In the mornings, you can drop by for pastries, coffee, smoothies and sandwiches.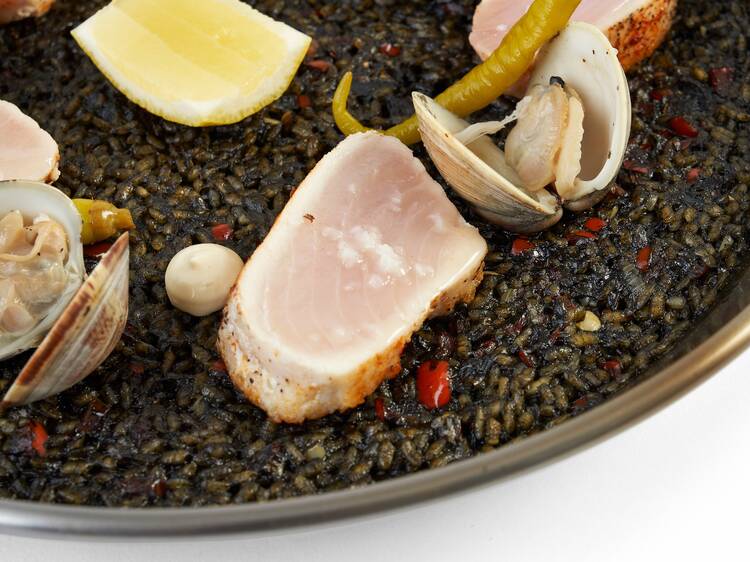 Photograph: Ross Floyd
69. Bocadillo Market
Restaurants

Spanish

Lincoln Park
What is it? By day, a spot to grab a cup of coffee and a Spanish sandwich served on a baguette (a bocadillo). In the evening, Bocadillo Market becomes a family-style Spanish restaurant, complete with tapas, olives and paella.
Why we love it: You can't go wrong swinging by for a sandwich, but Chef James Martin family-style dinner menu is where this concept truly shines. Fresh, seasonal ingredients to take the spotlight in most dishes, and the generous serving of paella is one of our favorites in all of Chicago.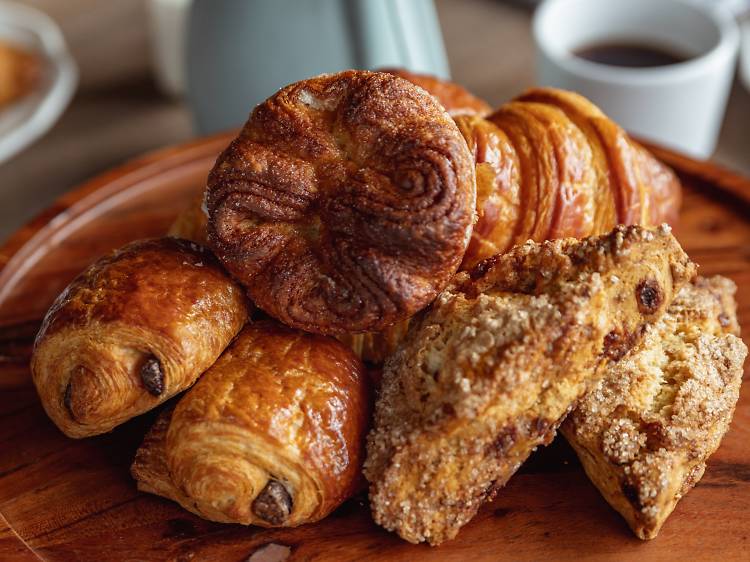 Photograph: Rachel Bires
70. Aya Pastry
Restaurants

River West/West Town
What is it? A bakery from a pastry chef with a fine dining pedigree.
Why we love it: Aya Fukai, who previously worked at acclaimed spots like Sixteen and Maple & Ash, opened this West Town bakery in 2019. Her pristine creations range from classic croissants and macarons to a whimsical matcha mochi cake. Even the seemingly ordinary breads are remarkable—the Japanese-style shokupan will help up your sandwich game.
Time Out tip: If you want to feel like an accomplished pastry chef, pick up some bake-at-home mini croissants or biscuits.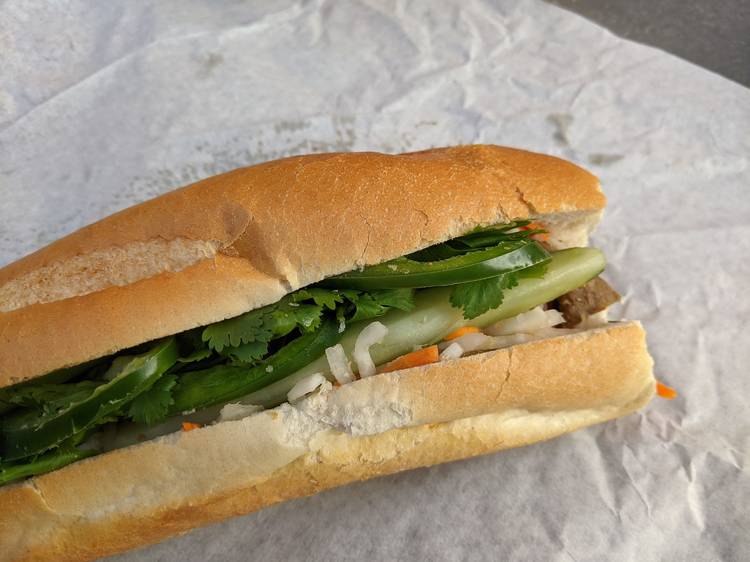 Photograph: Zach Long
71. Nhu Lan Bakery
Restaurants

Bakeries

Lincoln Square
What is it? With locations in Lincoln Square and Uptown, Nhu Lan makes bánh mì for omnivores and vegetarians alike.
Why we love it: The expansive menu of sandwiches are served on freshly-baked baguettes and topped with crisp jicama, carrots and jalapeño slices. The meaty variants made with pâté, headcheese and roasted pork are just as good as plant-based options like lemongrass or ginger tofu.
Time Out tip: The bánh mì is the star, but those with a taste for Vietnamese cuisine should take a look through the cooler. You'll find an array of sweet dessert beverages, flan and pork buns that you can take home and reheat.
72. Lawrence Fish Market
Restaurants

Seafood

Albany Park
What is it? One of the city's best values, Lawrence Fish Market is a cash-only, counter-service seafood purveyor that specializes in unbelievably cheap sushi.
Why we love it: You might walk right past this takeout-only spot in Albany Park if you don't catch the small neon sign in the window that reads "sushi" with a fish jumping out of the water. That'd be a mistake. Part fish market, part sushi shop, the unassuming storefront has a long list of classic and inventive rolls, sashimi and nigiri, but you're here for the party trays—even if you're only ordering for two. Tray C2, for instance, is loaded up with three rolls and 24 pieces of assorted sushi, priced at a cool $38.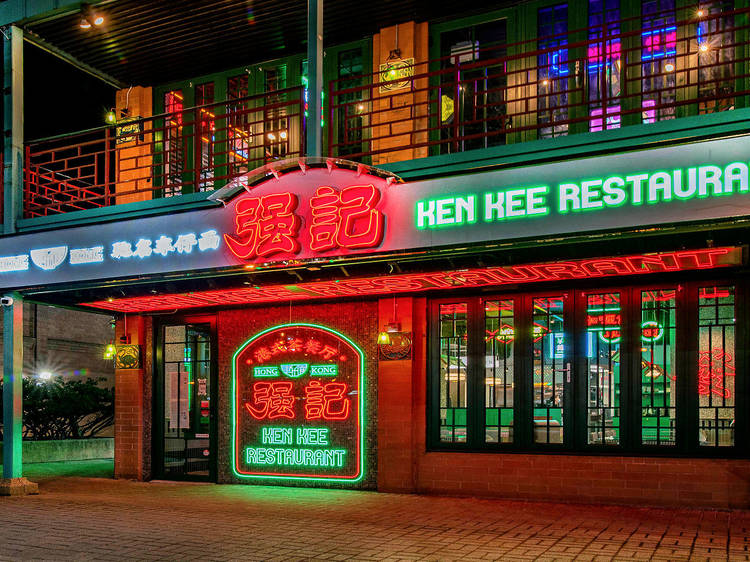 Photograph: DLM Photography Design
73. Ken Kee Restaurant
Restaurants

Chinese

Armour Square
What is it? The revival of a long-running Chinatown favorite, overseen by Kenny Yang of Strings Ramen Shops.
Why we love it: With decor and neon accents inspired by the streets and markets of 1950s Hong Kong, Ken Kee is like two restaurants in one. Order crab rangoon, assorted congee and beef brisket casserole from the all-day menu, or opt for the Noodle Cart offerings (served from a dedicated kitchen). You can customize your noodle bowl to your liking, picking the broth, the noodles and all of the delicious toppings from a long list of options.
74. Rubi's on 18th
Restaurants

Mexican

Lower West Side
What is it? The permanent Pilsen home of longtime Maxwell Street Market taco vendor Rubi's.
Why we love it: Serving a menu of tacos that include charcoal-grilled asada and pastor in handmade tortillas, you'll find out why folks regularly queued up to get their hands on Rubi's delicious Mexican cuisine.
Time Out tip: Hours are currently limited to Thursdays, Fridays, Saturdays and Sundays, and pre-ordering online is a good idea unless you love waiting.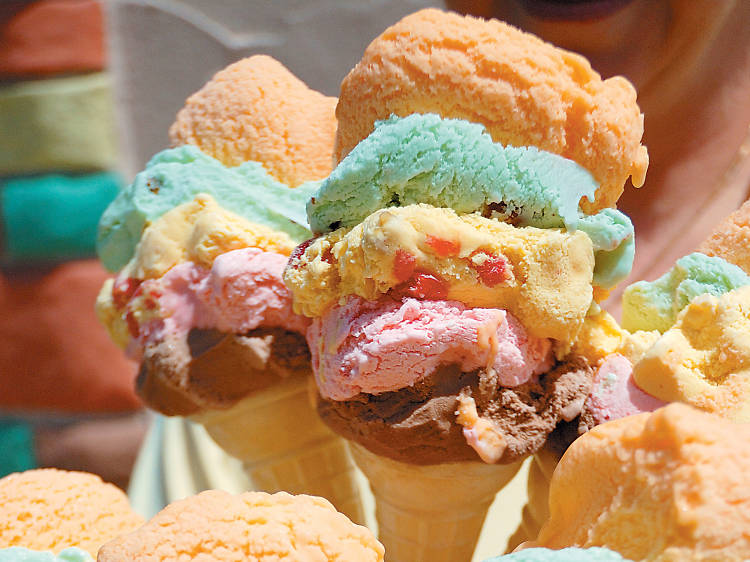 75. Original Rainbow Cone
Restaurants

Ice cream parlors

Beverly
What is it? A Chicago ice cream stand that's served a five-flavor cone for almost a century.
Why we love it: A Rainbow Cone is something that you simply can't have anywhere else in the world, which is what makes it so special. It helps that it's actually very delicious, stacked with chocolate, strawberry, Palmer House (vanilla with cherries and walnuts), pistachio and orange sherbet, though you'll have to eat it fast to avoid making a multi-colored mess.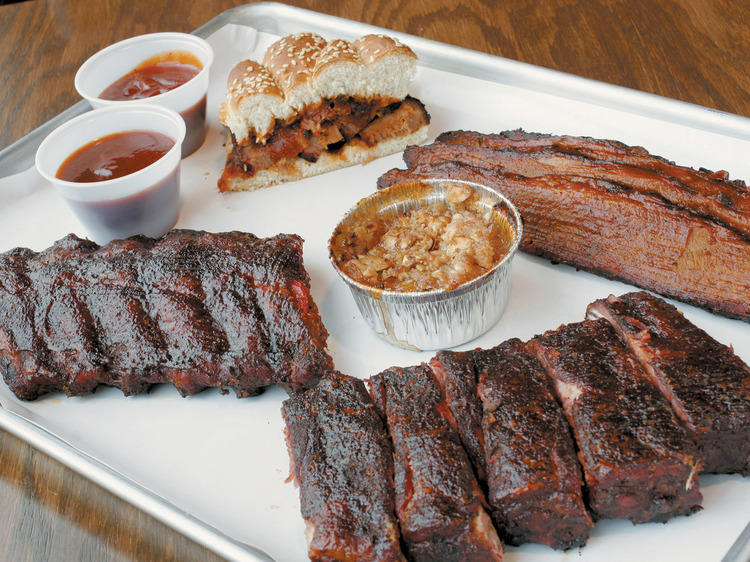 Photograph: Donna Rickles
76. Smoque BBQ
Restaurants

Barbecue

Irving Park
What is it? An exemplary North Side barbecue joint devoted to the meatier things in life—from brisket and pulled pork to slabs of St. Louis ribs.
Why we love it: The crew here doesn't believe in taking shortcuts, meaning each rub, smoke, sauce and cut of meat has gone through a lengthy vetting process. The fruits of this painstaking labor include lip-smacking ribs, smoky brisket and juicy pulled pork—all of which can be savored via delivery, takeout and sit-down dining. Save room for house-made sides and desserts—we're particularly fond of the BBQ beans and melt-in-your-mouth peach cobbler.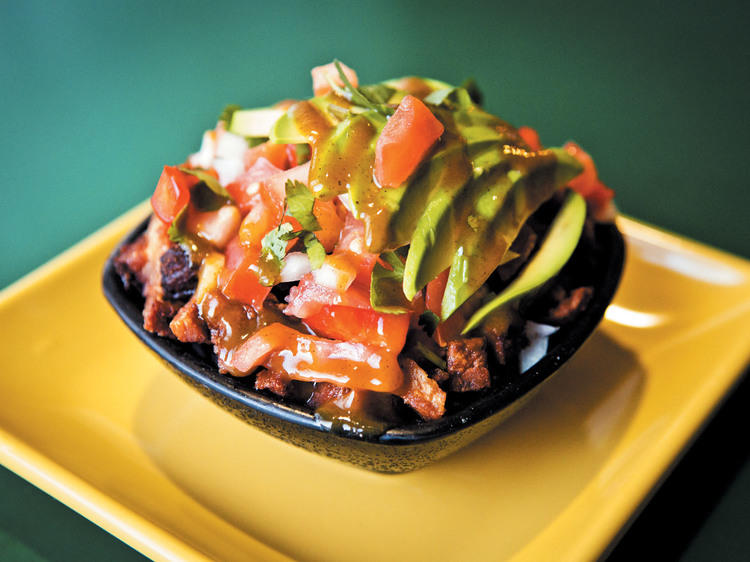 Photograph: Allison Williams
77. Irazú
Restaurants

Latin American

Bucktown
What is it? A Costa Rican restaurant in Bucktown with a beautiful patio that's perfect for gatherings with friends or a low-key date.
Why we love it: There's something for everyone on the menu at Irazú, whether you're looking for a vegetarian burrito and some empanadas or are ready to dig into the signature chifrijo (fried pork layered with black beans, white rice and pico de gallo) and a pepito stacked with steak, grilled onions and spicy Lizano sauce. Just make sure to save room for an oatmeal milkshake.
Time Out tip: Irazú is BYOB and there's a great wine shop (Red & White Wines) right across the street if you need a bottle.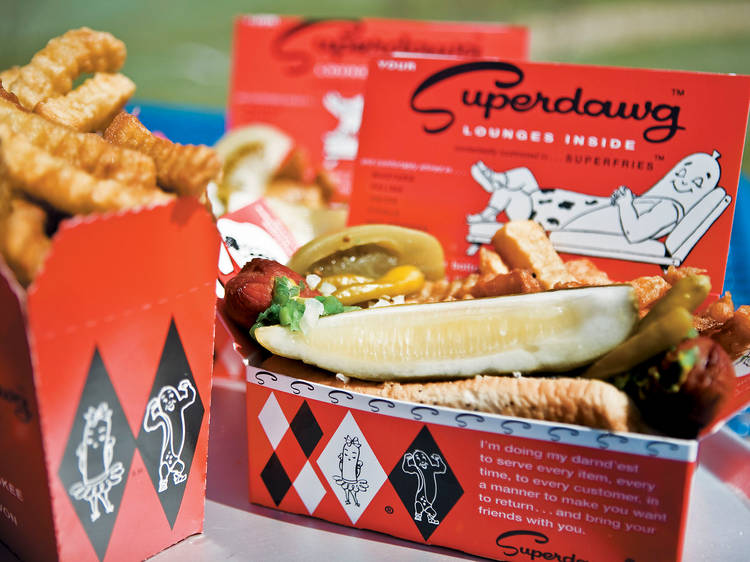 Photograph: Erica Gannett
78. Superdawg Drive-In
Restaurants

Hot dogs

Norwood Park
What is it? An old-fashioned drive-in where uniformed servers ferry hot dogs, fries and malts straight to your car window.
Why we love it: Besides the nostalgia factor? Nearly everything on the menu (including the delicious namesake all-beef frank loaded with Chicago-style toppings) comes nestled amid crispy crinkle-cut "Superfries" in a colorful, cartoon-covered box. If you're not craving a hot dog, you'll also find double-decker "Whooperburgers" and creamy "Supershakes."
Time Out tip: Don't have a car? You can walk up and place an order at the window or get Superdawg delivered.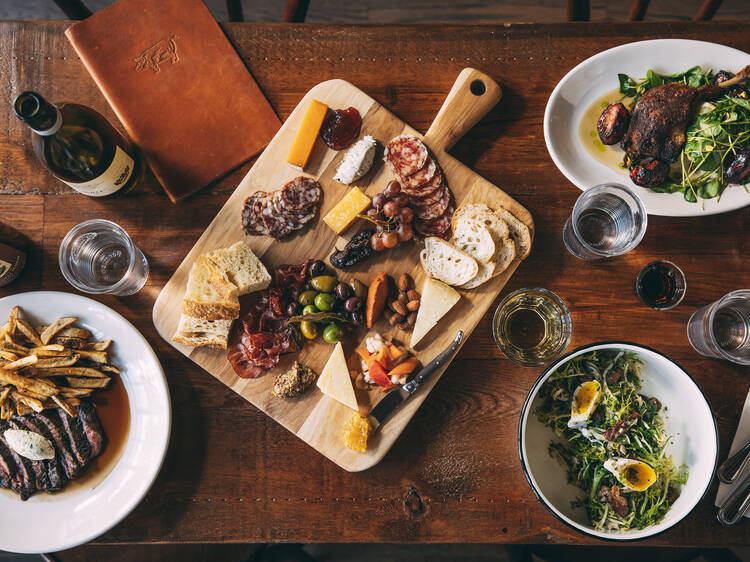 Photograph: Clayton Hauck
79. Lardon
Restaurants

Cafés

Logan Square
What is it? A meat- and cheese-centric cafe just off the California Blue Line stop that serves Metropolis coffee and sandwiches during the day as well as cheese boards and charcuterie in the evening.
Why we love it: Lardon's charcuterie offerings can function as a meal or as a light snack. Split between two people, the chef board is nearly enough for yourself and a date; split between three to four, it'll tide you over between after-work drinks and an at-home dinner.
Time Out tip: Believe it or not, this meat-heavy menu boasts some great salads for lunch. Try the veggie-packed Green Monster salad with tarragon-green goddess dressing.
80. Ina Mae Tavern & Packaged Goods
What is it? Named after chef-owner Brian Jupiter's great-grandmother, Ina Mae Tavern brings the Big Easy to Wicker Park.
Why we love it: Don't get us wrong—we love Jupiter's O.G. West Town spot, Frontier, but there's something about Ina Mae that feels deeply personal. A tribute to New Orleans cuisine, the menu revolves around a roster of po' boys and fried chicken. Try both with the Nashville fried chicken po' boy, which is dressed in a tongue-tingling hot sauce and served on freshly baked French bread.
Time Out tip: The walk-up window is always stocked with liquid courage, whether it's frozen daiquiris in the summertime or boozy hot buttered rum come winter.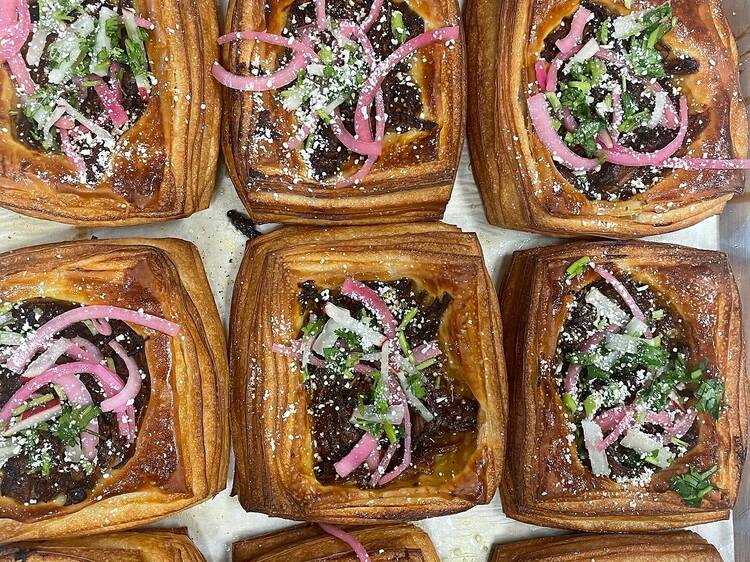 Photograph: Dina Cimarusti
81. Sugar Moon Bakery
Restaurants

Bakeries

Logan Square
What is it? A neighborhood bakery serving a wildly creative assortment of treats, from an Italian beef galette to brioche topped with pineapple, passionfruit and decadent Tajín caramel.
Why we love it: Visiting Sugar Moon requires commitment—it's only open Friday through Sunday, and lines trail down the block for hours at a time—but know that your patience will be rewarded with what just might be the best damn pastries you've had in years. Order in bulk and never skip the signature tahini chocolate chip cookies: Voluminous, crispy-edged and still gooey in the center, they're one of the bakery's few permanent menu items.

Time Out tip: Arrive before opening for your best shot of avoiding a sprawling line—and if you can't avoid waiting, an espresso from nearby coffee shop Necessary & Sufficient will help pass the time.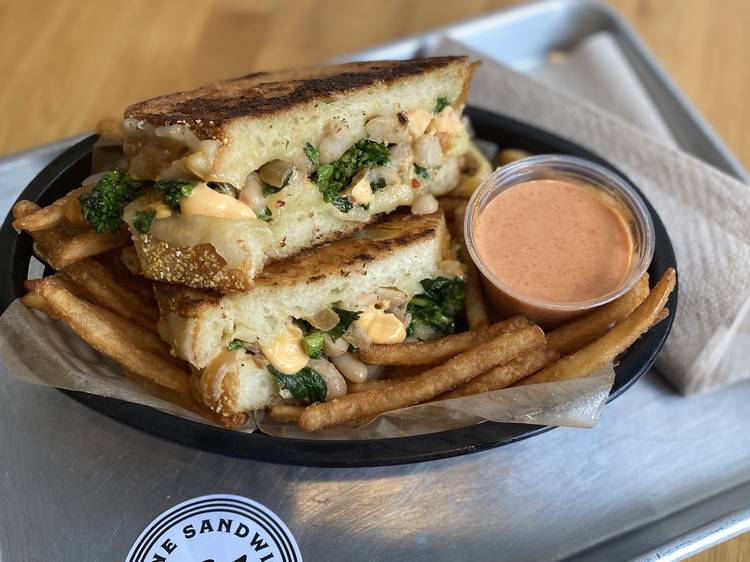 Photograph: Courtesy JT's Genuine Sandwich Shop
82. JT's Genuine Sandwich Shop
Restaurants

Sandwich shops

Irving Park
What is it? A family-owned and operated sandwich shop in Irving Park that serves excellent subs, grinders, melts, burgers, hot dogs and more.
Why we love it: If you're looking for protein served between bread or on a bun, the menu at JT's Genuine Sandwich Shop contains enough options for everyone in your group to get what they want. First-timers should try the breaded pork tenderloin or the vegetarian-friendly Beans & Greens Melt.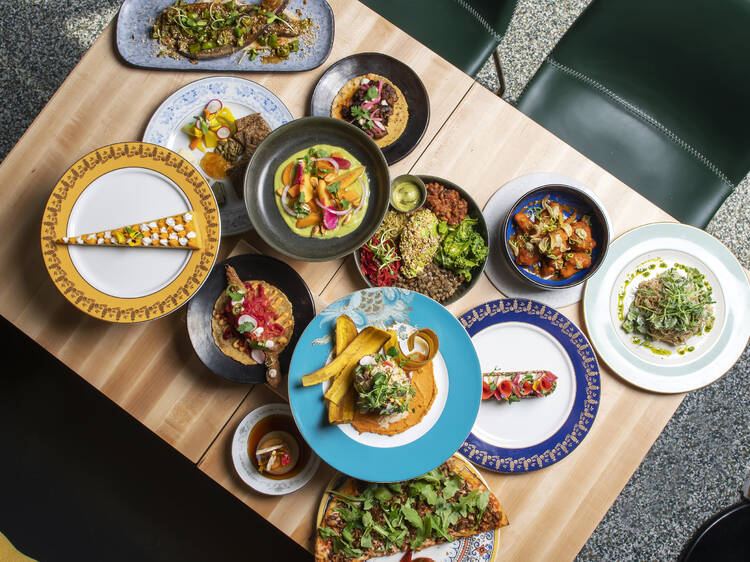 Photograph: Courtesy Bloom Plant Based Kitchen
83. Bloom Plant Based Kitchen
Restaurants

Vegan

Wicker Park
What is it? An entirely plant-based (and gluten-free) concept from chef Rodolfo Cuadros, not far from his delicious pan-Latin American restaurant Amaru in Wicker Park.
Why we love it: Forget about tofu and seitan—Bloom Plant Based Kitchen wants to change your perception of a meatless meal. You'll find everything from "cheese" boards made with whipped cashew requeson to toasted yuca gnocchi, a novel dish topped with shaved cashew pecorino.
Time Out tip: Order the baja taco, made with a tempura-battered banana blossom on a hemp seed tortilla with smoked chili oil.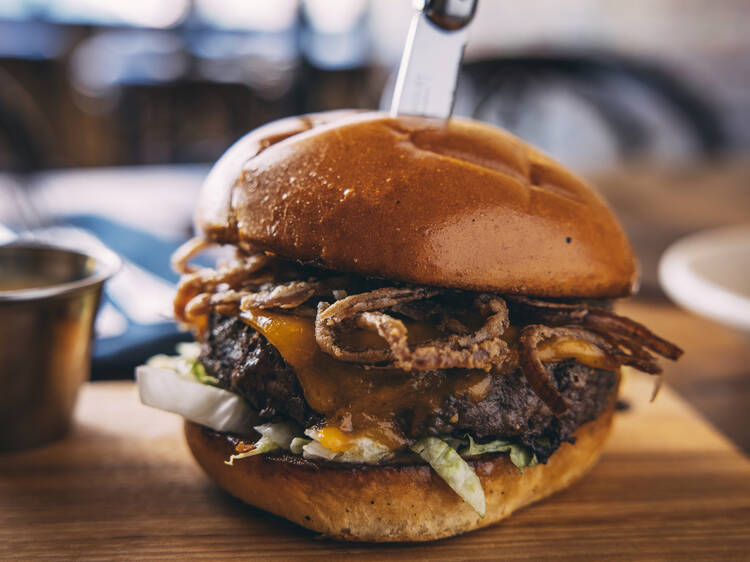 Photograph: Clayton Hauck
84. Union
Restaurants

Contemporary American

Logan Square
What is it? An elegant, dimly-lit pub from the same folks behind Lardon, the adjoining salumeria and all-day café.

Why we love it: With a tight menu of new American fare and locally-sourced beer, Union isn't exactly reinventing the wheel when it comes to Chicago dining—but that's OK, because the combo works beautifully here. Puzzle over an ever-changing menu of Midwest beer (including brews from Perennial Artisan Ales in St. Louis and Eagle Park Brewing in Muskego, Wisconsin) and creative riffs on old-fashioned cocktails, and don't miss out on the restaurant's hulking, gorgeous brisket burger topped with bone marrow aioli and onion strings.