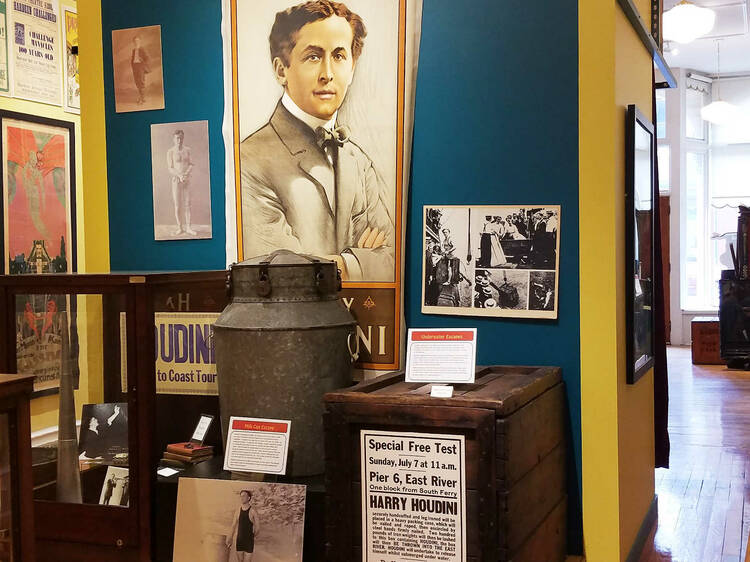 Photograph: Courtesy American Museum of Magic
1. Explore the country's largest magic museum
Driving time from Chicago: About three hours
You'll find everything from obscure conjuring tomes to equipment used in Harry Houdini's most famous escape acts at the American Museum of Magic in Marshall, Michigan, home to the biggest collection of magic ephemera in the United States. With more than 350,000 artifacts onsite, there's more than enough magical entertainment to fill an afternoon: Take a self-guided tour through magic history, try to squeeze into a replica of Houdini's Milk Can Escape or book an appointment at the museum's Lund Memorial Library to pore over archival materials.
2. Spot bison at Midewin National Tallgrass Prairie
Driving time from Chicago: About one hour
Want to get a firsthand look at why Illinois is nicknamed the Prairie State? Take a trip southwest of the city to Will County, where a herd of bison roam the 9,000-acre expanses of the Midewin National Tallgrass Prairie as part of an ongoing habitat restoration project (the area once housed the Joliet Army Ammunition Plant and bunkers still remain). Spotting the herd isn't a sure thing—it's a massive park, after all—so you're best off bringing a pair of binoculars and starting at the Iron Bridge Trailhead, which puts you closest to the bison pasture area. From there, a three-mile round trip hike will lead you to an overlook point outfitted with viewing scopes and benches to rest on.
3. Go spelunking inside Cave of the Mounds
Driving time from Chicago: About three hours
Wander among soda straws, flowstones, helictites and other stunning geological formations inside of Cave of the Mounds, a natural limestone cave near Blue Mounds, Wisconsin. Once home to a limestone quarry, the cave is now open for guided (or self-guided) tours through mineral deposits in shades of white, reddish brown, black, purple and gray. Fun fact: Whether you're visiting on a hot summer day or during the frigid depths of winter, the subterranean expanse is always a cool 50 degrees, so be sure to dress accordingly.
4. See the Batmobile (and tons of other famous cars) at the Volo Auto Museum
Driving time from Chicago: About an hour and a half
Don't think that you're a car person? A visit to the Volo Auto Museum just might change your mind. Throughout this suburban attraction's 33 exhibits, you can ogle everything from '50s-era Thunderbirds and Oldsmobiles (Vintage Cars), to Britney Spears' 2006 Mercedes-Benz and Elvis Presley's 1974 Cadillac (Cars of the Rich and Famous), to Scooby Doo's Mystery Machine and the Subaru driven by Paul Walker in Fast & Furious 7 (TV and Movie Cars). There's even an entire exhibition dedicated to different iterations of the Batmobile. Plus, if you're really hoping to find some artifacts that aren't car-related, check out the museum's collection of planes, antique card games, animatronics and music machines, or shop for new home decor at the nearby Volo Antique Malls.
5. Tour modernist architecture in Columbus, IN
Driving time from Chicago: About four hours
Thanks to a highly successful funding program in the mid-20th century, the small-ish town of Columbus, Indiana is home to some of the Midwest's most stunning examples of Modern buildings, structures and public art, with works by Eero Saarinen, I.M. Pei, Richard Meier and other architectural luminaries dotting its downtown thoroughfares. You can pay for a guide to lead you through the highlights, but the town also offers a free audio tour app that leads listeners through 18 of the most prominent buildings in the area.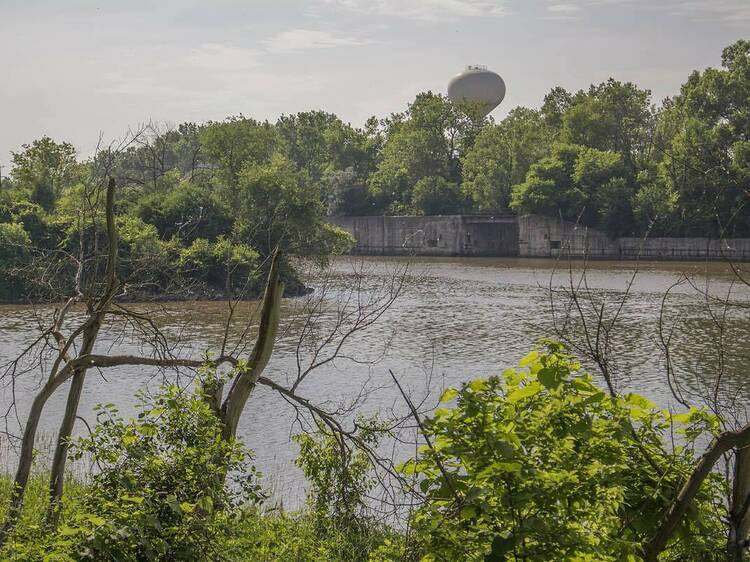 Photograph: Courtesy of Calumet Heritage Area
6. Paddle along the African American Heritage Water Trail
Driving time from Chicago: About 40 minutes
Chicagoans who love active, experiential learning can take an impactful day trip of paddling through history along the Little Calumet River, a waterway which, along with others, connects Lake Michigan with the Mississippi River. In a span of just seven miles, experience nearly two centuries of African American history, from the underground railroad and civil rights to the birth of environmental justice. Beginners can join an organized group paddle during the summer season while experienced water recreationists can follow a self-guided paddle outlined on the Openlands website.
7. Hike around the iconic Farnsworth House
Driving time from Chicago: About an hour and a half
Located in Plano, Illinois at the banks of the Fox River, the glass-walled Farnsworth House—designed by Bauhaus architect Ludwig Mies van der Rohe as a weekend retreat for Dr. Edith Farnsworth—is both a National Historic Landmark and one of the area's foremost examples of Modernist architecture. Though the house has been besieged by floods throughout its 70-year history, ongoing preservation efforts have kept it in tip-top condition. Book a docent-led tour through the building (the summertime moonlight tours, which commence at dusk and loop around a lighted exterior path, are an especially beautiful option) and take some time to soak in the natural beauty of the home's 60-acre wooded grounds.
8. Check out Amish Country in Shipshewana, IN
Driving time from Chicago: About two and a half hours
Escape the bustle of city life among the placid streets of Shipshewana, a teeny town nestled in the center of northern Indiana's Amish Country. Kick off your day with a tour of Menno-Hof—a museum dedicated to Amish and Mennonite history—or book a sight-seeing expedition aboard a horse and buggy, then fuel up with traditional Amish eats at family-style restaurants like A Taste of of Shipshewana (where you'll also find live cooking and quilting demonstrations). In the market for antiques and tchotchkes? Plan a visit on Tuesdays or Wednesdays from May through September, when the town hosts the Midwest's largest flea market.