LINCOLN SQUARE — An affordable housing project that would bring 63 apartments to the heart of Lincoln Square received key city approval Tuesday.
The six-story, 63-unit development at 4715 N. Western Ave. is planned for a parking lot across the street from the Western Avenue Brown Line station. It will include ground-floor commercial space and 18 public parking spaces.
The project was one of numerous items approved by the City Council's zoning committee Tuesday, including an affordable development in Lakeview and residential units and a hotel on Motor Row in the South Loop. Each development must now be approved by the full City Council.
The Lincoln Square development has been controversial and underwent several revisions since it was first proposed in 2020.
Developer Community Builders was pre-approved for highly competitive tax credits in December 2021 after years of tense community meetings on bringing low-cost units to the increasingly expensive Lincoln Square area.
The city's housing and planning departments approved an early version of the developer's proposal last year but later said the developer needed to cut back parking and move the building's entrance to secure final approval for the tax credits.
The latest compromise was ironed out in July after months of back-and-forth between the developer, neighbors, business owners, 47th Ward officials and city departments.
"It was very challenging to thread the needle, not just with the community but with city departments. But at the end, I think we settled on something that our community is very excited about, in particular activating a very important corner within a broader Lincoln Square commercial corridor that is already very thriving," Ald. Matt Martin (47th) said at Tuesday's zoning hearing.
The building will include a range of studios, one bedrooms and two bedroom apartments.
Lakeview Lutheran Church building
The zoning committee also approved a housing development in Lakeview that will bring 37 affordable units to the neighborhood.
The project at 835 W. Addison St. would convert the current Lakeview Lutheran Church building into a new development, which would include space for the church on the ground floor and affordable units on higher floors.
The six-story building was first approved for a zoning change in 2020, but has been revised to accommodate technical changes to come in line with new transit-oriented development rules passed by City Council this summer, zoning attorney Liz Butler said.
"As the alderman of this ward and an area that is really difficult to find partners for affordability in our ward, we're excited to bring this forward again," Ald. Tom Tunney (44th) said. Tunney is also the chair of the City Council's zoning committee.
Motor Row Historic District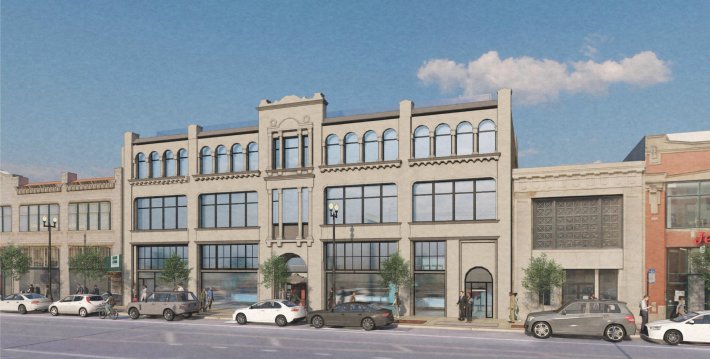 At 2222 S. Michigan Ave. in South Loop, alderpeople approved a mixed-use development that hopes to bring 38 residential units, 18 hotel rooms and a restaurant and event space to a historic Motor Row building.
The project is being led by former Bears defensive end Israel Idonije, who hopes to add an additional floor and rooftop patio to the building, which once was a showroom for the Hudson Motor Company.
"This is one of the most beautiful and iconic buildings along Michigan Avenue in the Motor Row Historic District. I'm really excited about Mr. Idonije and his team's plans to create a residential, hotel, restaurant, speakeasy, commercial space with a rooftop venue here at this location," area Ald. Pat Dowell (3rd) said Tuesday.
The zoning committee also approved a mixed-use development in Chinatown, a four-unit mixed use building in West Town, and other projects.