1. Starved Rock State Park
Located on the south bank of the Illinois River in LaSalle County, Starved Rock offers 13 miles of well established trails winding through 18 canyons, with views of gorgeous waterfalls and rock formations (including the 125-foot butte overlooking the river that gives the park its name). Guided hikes are available year-round, or you can set out exploring at your own pace.
Travel time: 90 min drive
Entry fee: Free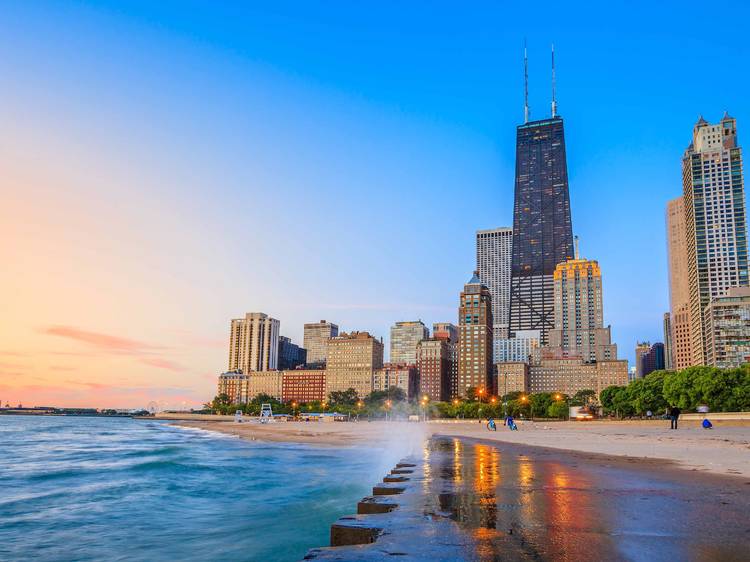 Photograph: Shutterstock
2. Chicago Lakefront Trail
Spanning 18.5 miles, Chicago's Lakefront Trail will take you all the way from one end of the city to the other. Along the way, you'll enjoy unobstructed views of the skyline and pass by landmarks like Lincoln Park, the Museum Campus and Promontory Point. It's one of the best ways to see some of Chicago's best sights while working out.
Travel time: 5 min drive
Entry fee: Free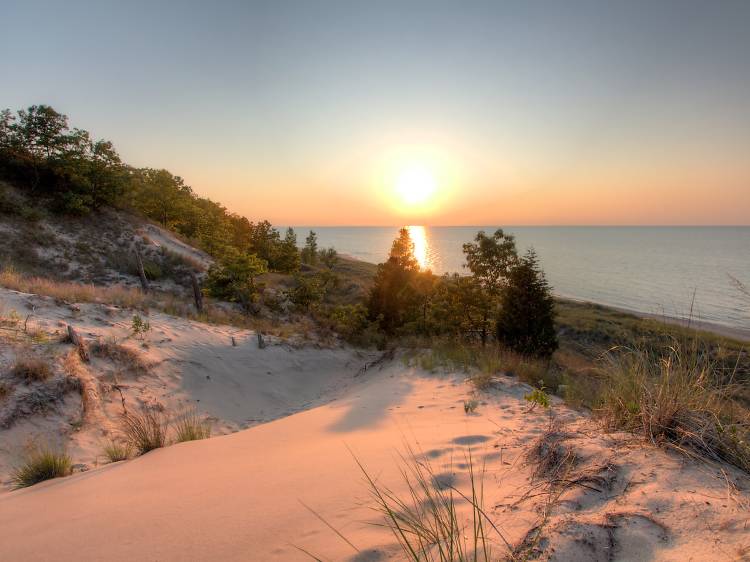 Photograph: Courtesy Indiana Dunes Tourism
3. Indiana Dunes State Park
Nestled on the northwest (and only) shore of Indiana, this National Natural Landmark offers spectacular views of Lake Michigan. The park encompasses over 2,000 acres of shoreline, comprised of hiking trails and, of course, sand dunes. Chicago native and poet Carl Sandburg called the Indiana Dunes "to the Midwest what the Grand Canyon is to Arizona and Yosemite is to California." Just a short drive or train ride from downtown Chicago, it's an easy day trip from the city.
Travel time: 1 hr drive, 90 min on South Shore Line
Entry fee: $7 in-state vehicles, $12 out-of-state vehicles
4. Waterfall Glen Forest Preserve
West of the city in southern DuPage County, this nearly 2,500-acre preserve surrounding Argonne National Labs has 11 miles of mapped trails shared by hikers, cyclists, horseback riders and, when weather permits, cross-country skiers. The area itself is named after former Forest Preserve District president Seymour Waterfall (yes, that was his name), not the small, man-made cascade within it.
Travel time: 30 min drive
Entry fee: Free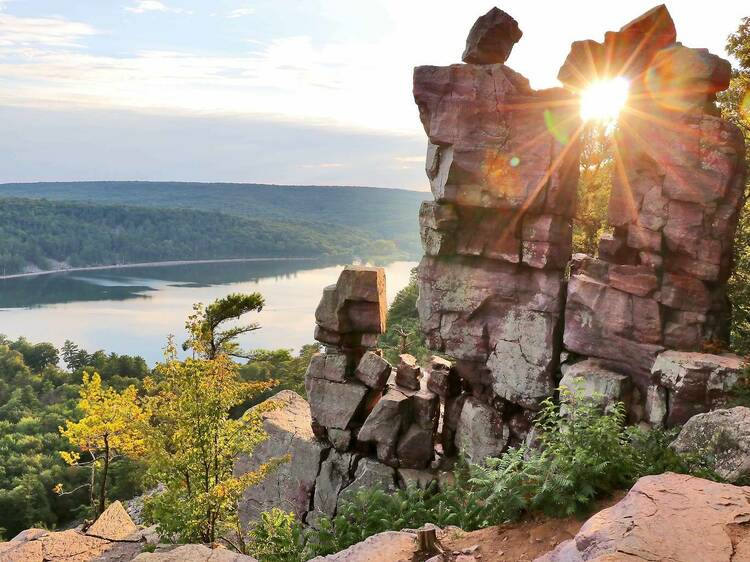 Photograph: Shutterstock
5. Devil's Lake State Park
If you're able and willing to make the journey up north to Wisconsin, Devil's Lake State Park is a great option for stunning views and paths suitable for all levels of hikers. You'll marvel at rock formations that were carved by glaciers during the Ice Age while making your way through over 29 miles of trails. Traverse the East Bluff Trail or the Balanced Rock Trail to be rewarded with some truly spectacular sights.
Travel time: 3 hr 30 min drive
Entry fee: $8 in-state vehicles, $11 out-of-state vehicles
6. Midewin National Tallgrass Prairie
This 19,000-acre National Forest Service prairie south of Joliet attracted new attention in 2015 with the reintroduction of bison to the land, with visitor numbers rising for the chance to see the herd in its natural habitat. Midewin has about 22 miles of mixed-use trails shared by hikers, cyclists and horseback riders, and another 12 for hikers only. Keep an eye out for the decomissioned bunkers where the U.S. Army once stored ammunition.
Travel time: 1 hr drive
Entry fee: Free
7. Kankakee River State Park
The Kankakee River has been a treasured area for centuries, occupied by the Illini and Miami tribes in the 17th century. The park itself surrounds the river for about 11 miles, totaling to 4,000 acres of protected land. It's popular spot for fishing, canoeing, hiking and mushroom hunting (yep), and includes campgrounds with cabins, electricity and more amenities available.
Travel time: 1 hr drive
Entry fee: Free
8. Moraine Hills State Park
With paths that wind around Lake Defiance and the surrounding woodland, Moraine Hills State Park offers more than 10 miles of trails that are fit for casual hikers. Named for the stones and boulders that were deposited throughout the area thousands of years ago when a glacier retreated, this McHenry County park is also a popular place for boating and fishing. Take the 3.7-mile Lake Defiance Trail to admire the sights, or opt for one of the shorter trails if you're pressed for time.
Travel time: 1 hour
Entry fee: Free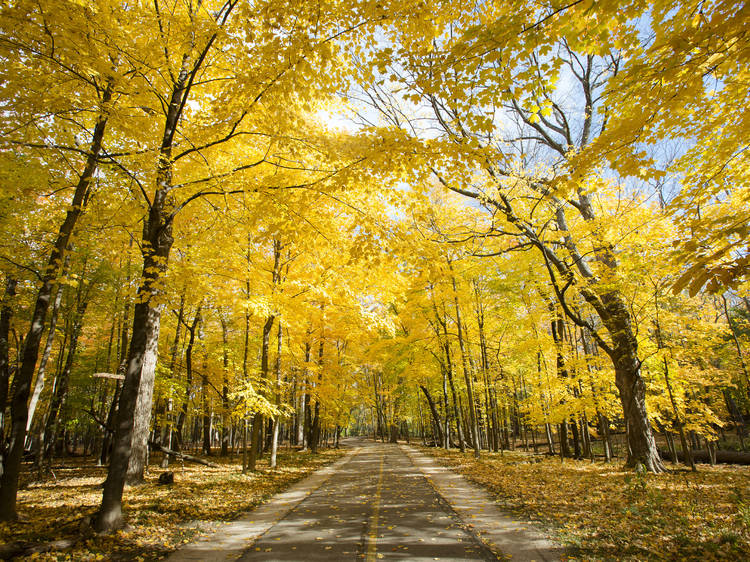 Photograph: Courtesy Forest Preserves of Cook County
9. North Branch Trail
Get yourself to Gompers Park and you'll be minutes away from the North Branch Trail, which winds north through forests in Nile, Skokie, Morton Grove, Winnetka and Glencoe. It's a popular path for bikers (since it's paved), but hikers are welcome, too. You can trek 16 miles to the Skokie Lagoons or just as far as Morton Grove to get pizza at Burt's Place or Pequod's.
Travel time: 20 min drive
Entry fee: Free
10. Morton Arboretum
Note: Advance, date-specific, timed-entry online member passes and visitor tickets are required.
This nature preserve in west suburban Lisle boasts an incredibly complex landscape, with more than 4,000 catalogued species of trees and plants, and striking limited-time sculpture exhibitions. Explore them on 16 miles of paved and wood-chipped trails. In the summer and fall, Morton Arboretum is also a venue for Walking Plays, which offers ambulatory outdoor performances.
Travel time: 45 min drive, 90 min via Metra
Entry fee: $16 adults, $14 seniors, $11 ages 2–17
11. Joliet Iron Works Historic Site
Craving a bit of industrial history with your outdoor excursion? The former site of Joliet Iron and Steel Works (once one of the largest steelmills in the U.S.) is now home to a 1.5-mile trail that allows guests to walk through the ruins of foundations and blast furnaces. You can also access the 12.5-mile I&M Canal Trail, which follow its namesake waterway north through Lockport to Romeoville, IL—perfect for hiking, jogging or biking.
Travel time: 1 hr 15 min drive
Entry fee: Free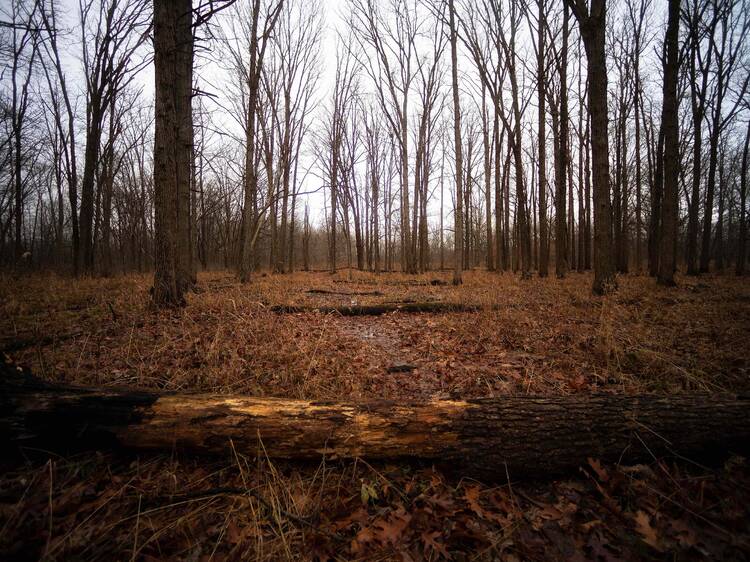 Photograph: Shutterstock
Located at the southern entrance of the North Branch Trail, this nature preserve offers hiking trails that will take you through wooded areas, wetlands, savannas and meadows. You'll spot plenty of wildlife on your 5.7-mile loop, including excellent bird watching opportunities. If you need a breather after you're done, pack some refreshments and relax in the picnic grove.
Travel time: 20 min drive
Entry fee: Free
13. Kettle Moraine State Forest South
There are two sections of Kettle Moraine State Forest, one to the north of Milwaukee and the other to the southwest. To keep the drive from Chicago to a minimum, we recommend the latter of the two options. The Southern Unit of the Wisconsin State Forest is packed with trails that run through pine forests and prairies. You'll find paths of varying lengths, including a short 1.25-mile jaunt on the John Muir Trail System or—if you're up for a challenge—a 30-mile section of the Ice Age National Scenic Trail.
Travel time: 2 hr drive
Entry fee: $8 in-state vehicles, $11 out-of-state vehicles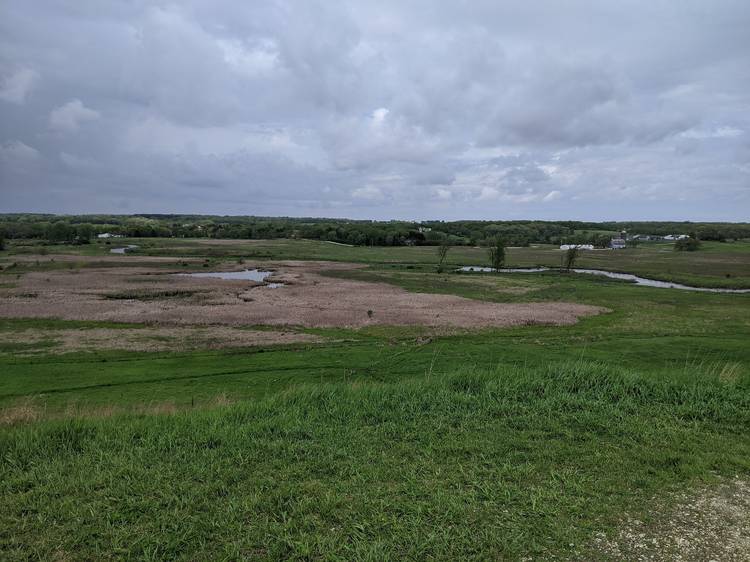 Photograph: Zach Long
14. Glacial Park Conservation Area
You can thank the glaciers for which this park was named for creating the pair of hills (a.k.a. kames) that hikers can scale, offering some great views of the surrounding area. The rest of the five-mile trail at Glacial Park isn't particularly challenging, but there are interesting sights along the way, including an oak savanna and bogs.

Travel time: 80 min drive
Entry fee: Free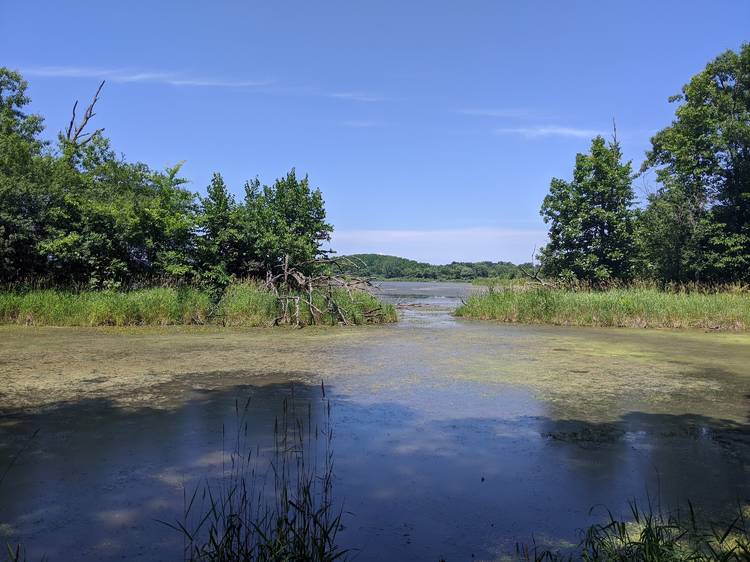 Photograph: Zach Long
15. Richard Bong State Recreation Area
Just over the Wisconsin border between Lake Geneva and Kenosha, this swath of green space was originally intended to be a jet fighter base. When those plans fell through, the area was opened for recreation, where anyone can enjoy the lakes, prairie landscape and campsites. Hikers can tackle a 16-mile network of trails, including an 8.3-mile jaunt that passes through hills and wetlands.
Travel time: 90 min drive
Entry fee: $8 in-state vehicles, $11 out-of-state vehicles
16. Lakewood Forest Preserve
Set on more than 2,000 acres in nearby Wauconda, IL, the sprawling Lakewood Forest Preserve is home to several bogs and marshes, as well as a colony of bats that keep the mosquito population in check. Hikers can access the 28-mile Millennium Trail (which winds north through a variety of parks, woods and preserves) as well as a segment of the six-mile Fort Hill Trail that connects the Lakewood and Ray Lake forest preserves.
Travel time: 90 min drive
Entry fee: Free
17. Des Plaines River Trail
A plan that began in 1980 was finally completed in 2015, when the last leg of this trail was opened to make a continuous 31.5-mile dirt and gravel path traversing Lake County from north to south along the namesake river. The northern half of the trail offers a little more visual interest, crossing through a series of forest preserves. You can jump on the trail in various places, but the southernmost point to begin your trek is the Sunset Bridge Meadow Trailhead in River Grove, IL.
Travel time: 30 min drive
Entry fee: Free
18. Castle Rock State Park
Not to be confused with the fictional Maine town where Stephen King novels are sometimes set, Castle Rock State Park is named for a sandstone butte near the Rock River. It's a bit of a drive from Chicago, but the landscape is a welcome break from a flat urban expanse. A series of interconnected loop trails provide about six miles of hiking, with several overlooks that give you sweeping views of your surroundings along the way.
Travel time: 2 hr drive
Entry fee: Free
19. Matthiessen State Park
Nestled just south of Starved Rock, this 1,700-acre tract boasts forest, prairie, canyons and other rock formations. It's centered on the Vermillion River and features five miles of hiking trails plus nine miles of biking and equestrian trails. Originally known as Deer Park, this reserve remains home to a large population of white-tailed deer thanks to its mineral springs that create salt licks for the fauna.
Travel time: 90 min drive
Entry fee: Free
20. Edward L. Ryerson Conservation Area
A home to several threatened and endangered species, the Ryerson Conservation Area is perhaps best known for its annual maple syrup- and Halloween-themed hikes. With 6.5-miles of paths that wind through the forest (a well as some historic cabins built by early settlers near the Des Plaines River), this wooded area is especially popular in the fall, when leaf peepers come to gawk at the colorful foliage.
Travel time: 40 minute drive
Entry fee: Free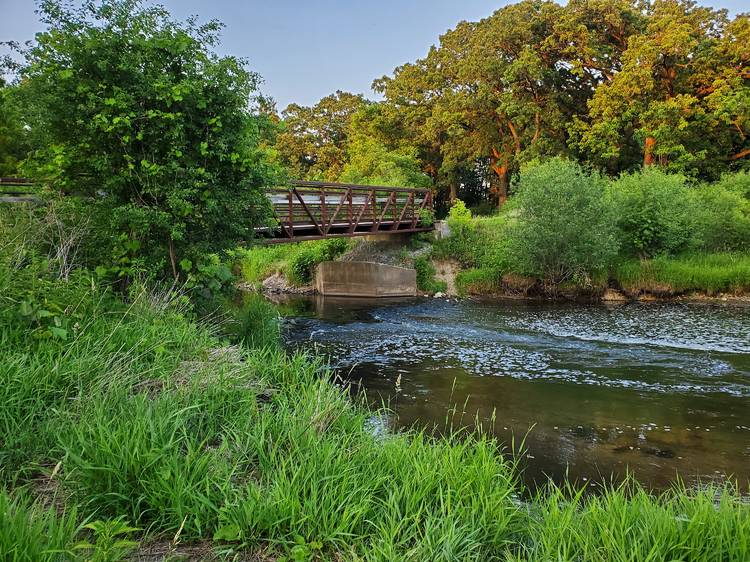 Photograph: Ken McClurg
21. Illinois Prairie Path
The first rails-to-trails project in the United States, this network of trails runs through many of Chicago's west suburbs. Enter the path in Maywood (just west of Forest Park where the CTA Blue Line ends) and head 16 miles west to Wheaton, where the path splits into branches that go to Elgin, Aurora, Batavia and Geneva. If you don't feel like hiking all the way home, it's pretty easy to catch the Metra back to the Loop.
Travel time: 20 min drive
Entry fee: Free
22. Deer Grove
Acquired in 1916, the Cook County Forest Preserve District's oldest property includes wetlands and prairies in the eastern half and denser woodlands in the west. The parcel in northwest suburban Palatine has four miles of paved trails and 10 more unpaved, the latter popular with both hikers and mountain bikers.
Travel time: 1 hr drive
Entry fee: Free
23. Ned Brown Forest Preserve
Better known as Busse Woods to residents of Elk Grove Village and Schaumburg, the trails that wind through this forest preserve offer views of the gigantic Busse Lake (a popular spot for licensed fishing). An eight-mile paved trail loops around the park, taking visitors along the lakeshore and into the woods. Head to the east end of the preserve to see if you can spot a herd of elk, which inhabit an enclosed pasture.
Travel time: 1 hr drive
Entry fee: Free
24. Adeline Jay Geo-Karis Illinois Beach State Park
A perfect summer day trip, this state park is home to the only remaining beach ridge shoreline in Illinois and a host of natural phenomena, including marshes, oak forests and dunes. Five miles of easy-going hiking trails serve as the perfect vantage point for birds, wildflowers and even prickly pear cactus in the park's drier areas. When you're done with your hike, cool off with a dip in Lake Michigan along 6.5 miles of shoreline.
Travel time: 1 hr
Entry fee: Free
25. Rock Cut State Park
Located near Rockford, Rock Cut State Park may be best known for its nearly 200 acres of lakes where visitors love to fish, swim and boat, but it's also a gem for hikers. The park sports 40 miles of hiking trails as well as options for bikers and horseback riders, and the trails are packed with interesting flora and fauna—you might catch a glimpse of a deer, fox, beaver or muskrat. Of course, you can always just bask in the vivid glory of more than 100 species of wildflowers.
Travel time: 90 min drive
Entry fee: Free