Explore the historic Swedish neighborhood with our guide to the best of Andersonville.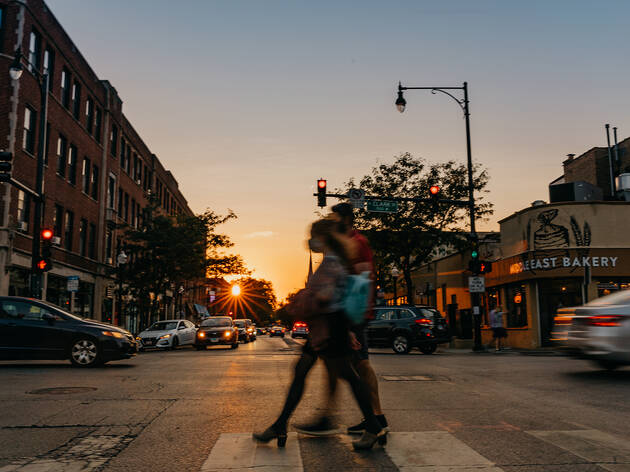 What's the Deal With Andersonville?
A small neighborhood that straddles the border of Edgewater and Uptown on Chicago's far North Side, Andersonville is best known for its lively Clark Street corridor, its LGBTQ community, and a water tower emblazoned with a Swedish flag that sits atop a museum.
Andersonville began as a small village of Swedish immigrants in the mid-19th century, eventually becoming the hub of Chicago's Swedish population (which was once second only to Stockholm) in the early 1900s. Swedish-owned bakeries, shoe stores, and delis once lined Clark Street—today, you'll find old photos of some of these businesses hanging in the windows of the buildings they once occupied.
While much of the neighborhood's Swedish population moved to the suburbs in the wake of the Great Depression, Andersonville still celebrates its Swedish heritage through its Swedish American Museum and annual events like Midsommarfest and the St. Lucia Festival of Lights. The nabe is now better known for hosting one of the city's largest LGBTQ communities, as well as beloved restaurants and some popular nightlife destinations.
If You Only Do One Thing
Work up an appetite and go shopping at Middle East Bakery and Grocery, where you can grab freshly-baked pita bread, fatyr (savory hand pies), or baklava. You'll also find containers filled with dried fruit, nuts, feta cheese, hummus, and olives—and it's all probably more affordable than what your local grocery store stocks.
Go Off the Beaten Track
Explore a collection of taxidermy, antique surgical tools, and specimens suspended in formaldehyde at Woolly Mammoth, the neighborhood's best spot for offbeat antiques and oddities.
On a Sunny Day
Go for a long walk along Clark Street, stopping in at Hopleaf for mussels and a Belgian beer on the patio, George's Ice Cream and Sweets for a cone, and Rattleback Records for some fresh tunes.
On a Rainy Day
Browse the shelves at the Women and Children First bookstore and track down some new reading material before you head to Replay Andersonville to set a few high scores on the various pinball tables and arcade games.
Get Cultured
Take in a series of micro-plays by attending a performance of the Neo-Futurists' signature show, The Infinite Wrench. If you prefer card tricks, sleight of hand, and inexplicable illusions, stop by the Chicago Magic Lounge for an evening show.
Chill Out
Sit down for a drink at Simon's Tavern (order a glass of glögg if you're visiting during winter) and strike up a conversation with some Andersonville locals.
Visit the Newest Spots
There's a new Parson's Chicken and Fish location (in the former home of Stone Fox) on the north end of the neighborhood where you can get the same hush puppies and hot chicken served at the local chain's other restaurants. And if you're looking for a stiff drink, queer, Black women-owned cocktail bar Nobody's Darling is an inclusive place to enjoy a Penicillin.
Nearest CTA Stations
Typically, the Berwyn Red Line station is your best bet for getting to Andersonville, but it's currently being renovated and isn't scheduled to reopen until 2024. Until then, you can use the Argyle or Thorndale Red Line stations to be dropped off just to the south or north (respectively) of Andersonville.
What Else Is Nearby?
From Andersonville, it's a short walk south to the section of Argyle Street that's lined with Vietnamese and pan-Asian restaurants or the Uptown entertainment district, where you'll find the Riviera Theatre, the Aragon Ballroom, and The Green Mill. You also won't have to walk far to get to Kathy Osterman Beach (a.k.a. Hollywood Beach), Foster Beach, or the northern terminus of the Lakefront Trail.
Recommended: Chicago neighborhoods guide.